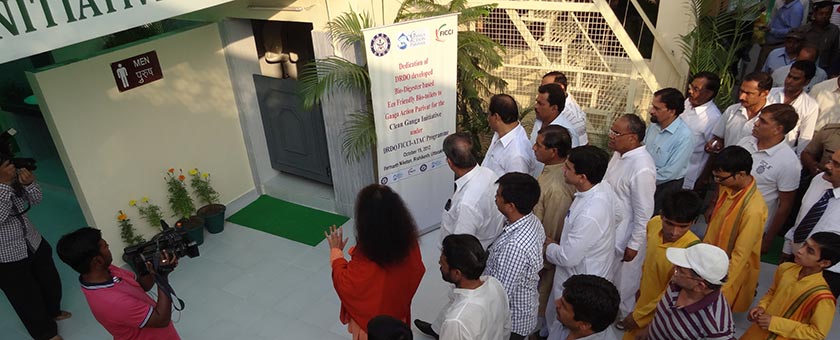 Honorable Governor, Ministers Inaugurate GAP Biodigester Toilet Project
On the 15th October, esteemed government leaders, scientists and sevaks gathered together to officially inaugurate the new eco-friendly, bio-digester toilets built at Parmarth Niketan Ashram, Rishikesh through the cooperation and hard work of DRDO, FICCI, and Ganga Action Parivar, of which Pujya Swamiji is the Founder and inspiration.  These toilets, which provide an environmentally-friendly and sustainable solution to the major sewage crisis India is facing, are the beginning of a partnership between these three entities which will help to bring eco-friendly toilets throughout the Ganga River Basin.  In the first stage alone, 5000 toilet blocks will be built hand-in-hand along the banks of Ganga in Uttarakhand.
To dedicate this historic step towards a clean and green India, many top leaders from both the Uttarakhand state government as well as the Central government alongside top scientists and directors, including the Hon'ble Governor of Uttarakhand Dr. Aziz Qureshiji, the Hon'ble Minister of Rural Development of UK Shri Pritam Singh, the Hon'ble Minister of Social Welfare of UK Shri Surendra Rakesh, the Hon'ble Member of Lok Sabha Shri Satpal Maharaj, the Hon'ble Union Minister of Water Shri Harish Rawat, the Senior Director of FICCI Shri Nirankar Saxena, Director of Life Sciences of DRDO Dr. Lokendra Singh, Director of DI2TM of DRDO Shri S. Radhakrishnan, Director of HR, BHEL Shri R. Krishnan, and Chief Controller R&D of DRDO Shri S. Sundaresh.
The Hon'ble Governor of Uttarakhand praised the resolve of DRDO, FICCI, GAP and the Parmarth family in its dedication to environmental protection and the betterment of India's homes, villages, towns and cities.  He recognized how building toilets in public places and girls' schools will not only help the state in remaining clean but will also be a great facility for tourists and pilgrims. In addition, it will help save women's dignity and promote women's education, thus toilets are a must across villages and cities.
Pujya Swamiji spoke about how building toilets is necessary for maintaining Gangaji's purity and cleanliness, as well as protecting the health and safety of people, especially women, and that by building eco-friendly toilets within the Ganga Basin will not only help keep the environment clean, but will help our culture shine everywhere.
[fbalbum url="https://www.facebook.com/media/set/?set=a.477829412238905.112272.195396983815484&type=1″]