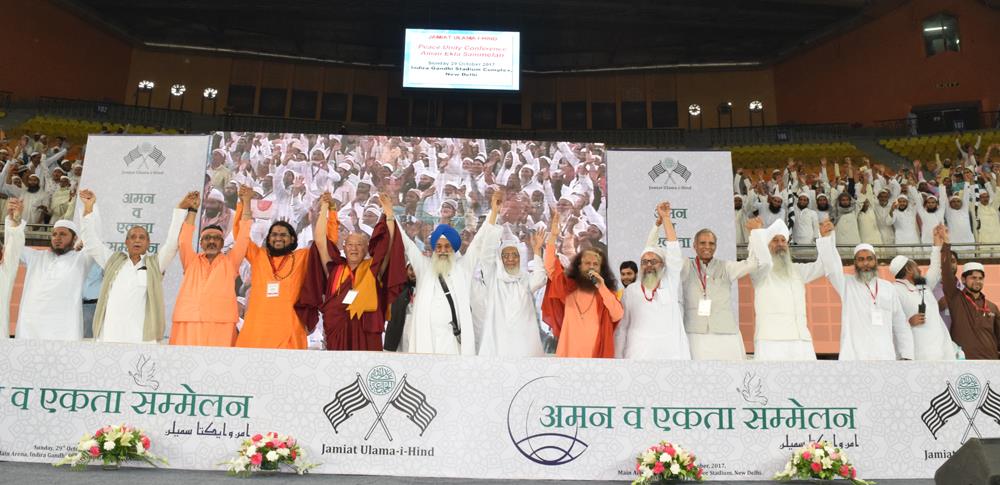 Historic Summit for Peace and Unity Motivates Pledges by 30,000
Jamiat Ulama-I-Hind's Peace & Unity Summit
Historic Summit for Peace and Unity Motivates Pledges by 30,000 Members of Muslim Community and Leaders of All Faiths
DELHI-Pujya Swami Chidanand Saraswatiji – Muniji​, President, Parmarth Niketan Rishikesh and Founder, Global Interfaith WASH Alliance was the Chief Guest at the mega Aman Evam Ekta Sammelan (Peace and Unity Summit), organised by the Jamiat Ulama-i-Hind, at the Indira Gandhi Stadium on the occasion of their centenary celebrations, with over 30,000 members to spread and share peace, harmony and work together towards a more sustainable/green world.
During the event a historic declaration was made. All assembled unanimously pledged to a historic proclamation, declaring, among other matters, "Islam preaches that the real Jihad means protecting all of humanity against bloodshed and establishing peace. In this spirit, we resolve to strongly condemn terrorism in all its forms…..We herein also declare that violence of any kind against innocent women, children and men—in word or in action—is anti-India, anti-human and anti-Islam. We condemn it, and undertake that we will perform our roles to stop violence, hatred, radicalism and divisive acts wherever we may see it."
The historic declaration was read by Maulana Mahmood Madani​ji, Secretary General, Jamiat Ulama I Hind​, and he concluded by adding that "The majority of Indian people are peace-loving. Peace and oneness is in the DNA of this country and we pledge today that Jamiat Ulama-i-Hind will stand besides and work together to this end."
Pujya Swamiji lauded the efforts of the organisation for the past 100 years and said, "Time has come for all of us to work together to light the lamp of peace, oneness and unity. No longer should a few people taint an entire religion or an entire community. Today we must all work together as one family to create a strong, resilient nation that illustrates to the world the power of unity admist our diversity. This is truly the need of the hour!"
Jathedar Akal Thakt Giani Gurbachan Singhji of the Golden Temple said that all religious texts and founders of religions have stressed on peace and urged people of different faiths to live like a family. He said that India equally belongs to people of all faiths and sects and not to any single community or faith. "Faiths may be different but they all lead to one ultimate truth, much like the purpose of water is to quench thirst no matter if it is called pani, aab or water," he said.
The Declaration adopted at, and ratified, by the conference amidst slogans of 'Hindustan zindabad' said: "In this crucial time…no longer shall words and acts of hatred and division be tolerated. We pledge to unify across all sects, faiths, castes and creeds to lend our hands and hearts for a new era dedicated to greener and more harmonious future, in which all are included, none is excluded and fellowship reigns true."
Interfaith Leaders Gracing the Stage Included:
Hzt. Maulan Syed Mohd Usman Mansoorpuri, President, Jamiat Ulama-i-Hind
Maulana Mahmood Madani, Secretary General, Jamia Ulama-i-Hind
Pujya Swami Chidanand Saraswati, President of Parmarth Niketan (Rishikesh), Co-Founder of the Global Interfaith WASH Alliance
Jathedar Akal Thakt Giani Gurbachan Singh, Golden Temple
H.H. Drikung Kyabgon Chetsang, 37th throne holder of the Drikung Kagyu Lineage and 7th reincarnation of the Chetsang Rinpoche
Swami Brahmeshanandacharya, Goapeethadeshiwar
Sankar Sanyal, President of Harijan Sevak Sangh, established by Mahatma Gandhi in 1932
Acharya Lokesh Muni, President-Founder of Ahimsa Vishwa Bharti
and many other eminent Islamic faith leaders and many others
[fbalbum url="https://www.facebook.com/media/set/?set=a.10155921469142698.1073742329.86246862697&type=1&l=4341d7d372″]