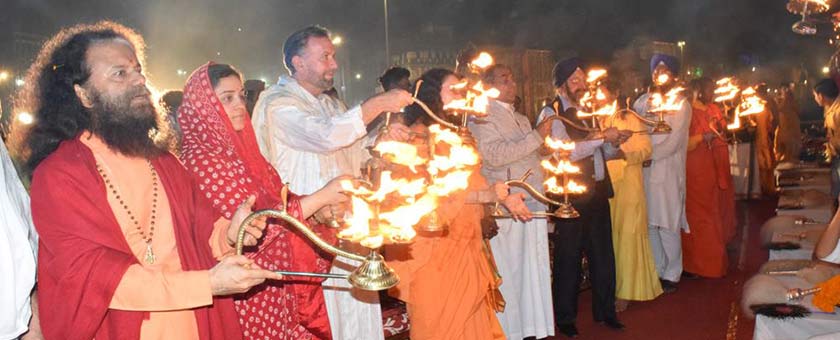 Historic Dev Diwali Celebrations in Varanasi
On the auspicious occasion of Dev Diwali and Kartik Purnima, an incredible and historic Sarva Dharma Swachhta Sankalp 2016 (Interfaith Cleaniness and Harmony Pledge) took place on the 14th November on the Assi Ghat. It was led by Global Interfaith WASH Alliance(GIWA) Founder HH Pujya Swami Chidanand Saraswatiji, GIWA's Secretary General Sadhvi Bhagawati Saraswatiji, blessed by GIWA's Faith Leaders from India's many faiths and the American Jewish Committee (AJC).
Highlights from the historic event included performances by Sivamani, Runa Rizvi Sivamani and special visit of Kailash Kher for a confluence of Sangeet (Music), Swachhta (Cleaniness & Sanitation) and Spirituality. The night was filled with riveting music by Sivamani and soulful singing by Runa Sivamaniji, special visit by Kailesh Kher and commenced in a massive Swachh Bharat and ODF India Sankalp led by Pujya Swamiji and GIWAs Faith Leaders with thousands of pilgrims and devotees raising their hand in support of this vital cause.
[fbalbum url="https://www.facebook.com/media/set/?set=a.10154703143647698.1073742218.86246862697&type=1&l=11be004274″]