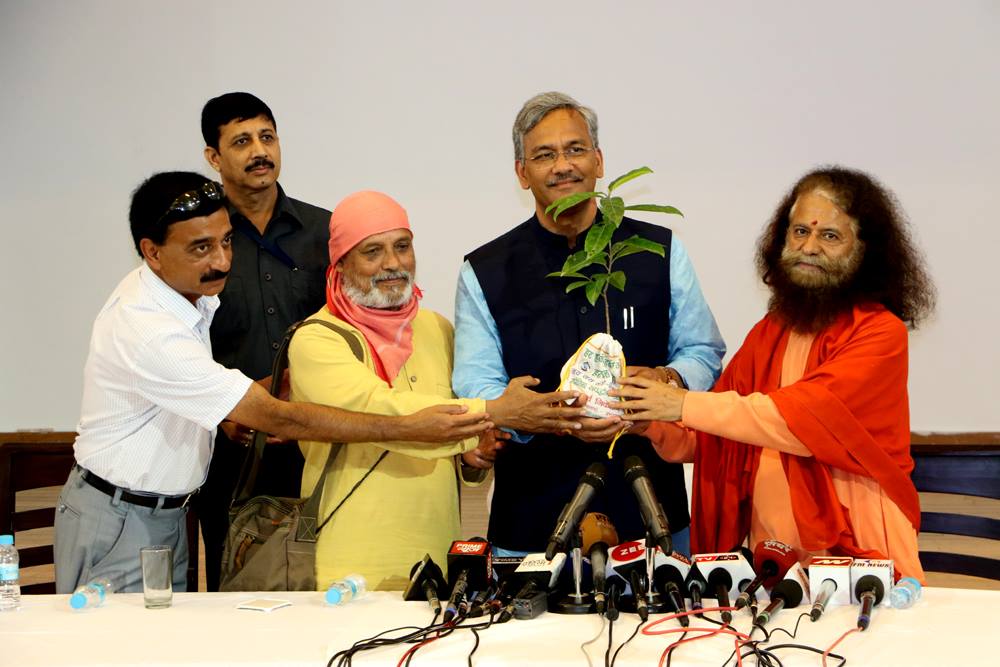 Himalaya Day to Himalaya Week This Year
Honble Chief Minister Shri Trivendra Singh Rawat​ji, HH Pujya Swami Chidanand Saraswatiji​, Dr Anil Joshi​, Padma Shri, Founder of HESCO and Col HS Ranaji, Eco Task Force (Retd) were together for an informal discussion with the media at the CM Residence in honour of Himalaya Diwas celebrations this year.
The Hon'ble Chief Minister said that for many years September 9th was the day in which the state had been celebrating Himalaya Day but this year he has envisioned a whole week dedicated to the conservation and the protection of the Himalayas. He encouraged the media and all sections of society to contribute and observe these celebrations. The Hon'ble CM emphasized the collective responsibility of all sections of the society to protect the Himalayas.
He also shared that throughout the state there will be many seminars, events and activities in honour of the Himalayas. He shared that the Himalayas supplies 65% of the water in for the nation and 65% food grains comes from the Ganga River Basin. He also shared that the Himalayas is a symbol of purity and has an significant social, spiritual, economic and public health impact on the nation and the world.
#HimalayaDay to be celebrated for one week in the State of #Uttarakhand announces CM @tsrawatbjp & Parmarth Niketan (#Rishikesh) hosting special celebrations on 9th Sept shares @PujyaSwamiji: Learn more abt recent #HimalayaDiwas Media PC at CM Residence: https://t.co/ZRvKImEz7g pic.twitter.com/HedSJCDFYL

— Parmarth Niketan (@ParmarthNiketan) September 2, 2018
The Chief Minister enthusiastically shared many effective economic results of the Prime Minister's Swachh Bharat Abhiyan. In so doing, he said, "We have to pay special attention to the revival and cleanliness of our rivers as well. Rivers are the means of water transport, not waste transport. We must increase people's emotional interest and engagement for mass tree plantation. Our administration is committed to reviving each and every water source in each district as well as reviving one water source at the block level." Listen to his entire speech here: https://www.youtube.com/watch?v=Lagg1iq2XEk
Pujya Swamiji shared in His powerful address, "Under the Hon'ble Chief Minister's leadership Sant (faith leaders), Sarkar (government), Saina (army), Scientists & Samaj (society) will come together during this year's Himalayan Week to take a sankalp (pledge) to serve the Himalayas, so that the Himalayas can in turn protect and save us and our future generations."
Watch His speech here:

He added,"The Himalayas is a fresh oxygen, clean water and medicinal herb powerhouse and the state of Uttarakhand has a vital role to play in offering these bounties of the Himalayas to the world. The Himalayas also provides a culture and way of life for true happiness and peace. By the promotion of eco-tourism, spiritual, yoga and wellness tourism we can facilitate sharing this ancient and sacred culture with our global family."
.@tsrawatbjp, @PujyaSwamiji & Dr #AnilJoshi #HESCO come together इस बार सरकार, संत, #scientist और समाज मिलकर #हिमालयदिवस (#HimalayasDiwas2018) मनाएँगे @ParmarthNiketan on 9th Sept & पूरे सप्ताह हिमालय दिवस मनाया जाएगा। #HimalayaDay #himalayas #climateaction @Ramesh_NN pic.twitter.com/g6W66REGa6

— Parmarth Niketan (@ParmarthNiketan) September 1, 2018
He also shared the need to celebrate Himalaya Diwas not just on one day but on everyday by remembering, honouring and bringing together our time, talent, technology and tenacity (4T's) to check migration from the Himalayas, address the challenges faced by Uttarakhand and providing it's Himalayan water, oxygen and medicinal plant powerhouse to the world.
He also warmly welcomed everyone together to the celebration of Himalaya Diwas at Parmarth Niketan this year on the 9th September as stakeholders from every section of society come together on the banks of Mother Ganga in Rishikesh to bring forth a declaration and a plan of action to conserve and serve the Himalayas.
Dr Anil Joshiji also shared that more than 300 places across the nation would be celebrating Himalaya Diwas and lauded the efforts of the Hon'ble Chief Minister of Uttarakhand in making the day popular among all sections of society. Listen to more of his speech: https://www.youtube.com/watch?v=KFExHUda8Ro
Col HS Ranaji shared the work the Eco Task Force was doing, with Pujya Swamiji's blessings, to create a nursery for the massive plantation of trees along both sides of the river banks in Uttarakhand as a means to create a water secure and more resilient Himalayas.
Pujya Swamiji offered a beautiful Rudraksha sapling to Hon'ble CM, Dr Anil Joshiji and Col HS Ranaji joined him, as a symbol of their clean and green commitment to work together for the preservation of the Himalayas.
An oath of protection of the Himalayas to social workers, environmentalists, media representatives and officers under the Hindustan Himalayan Rescue Mission was also led by the Hon'ble CM at the CM Residence just before the interaction.