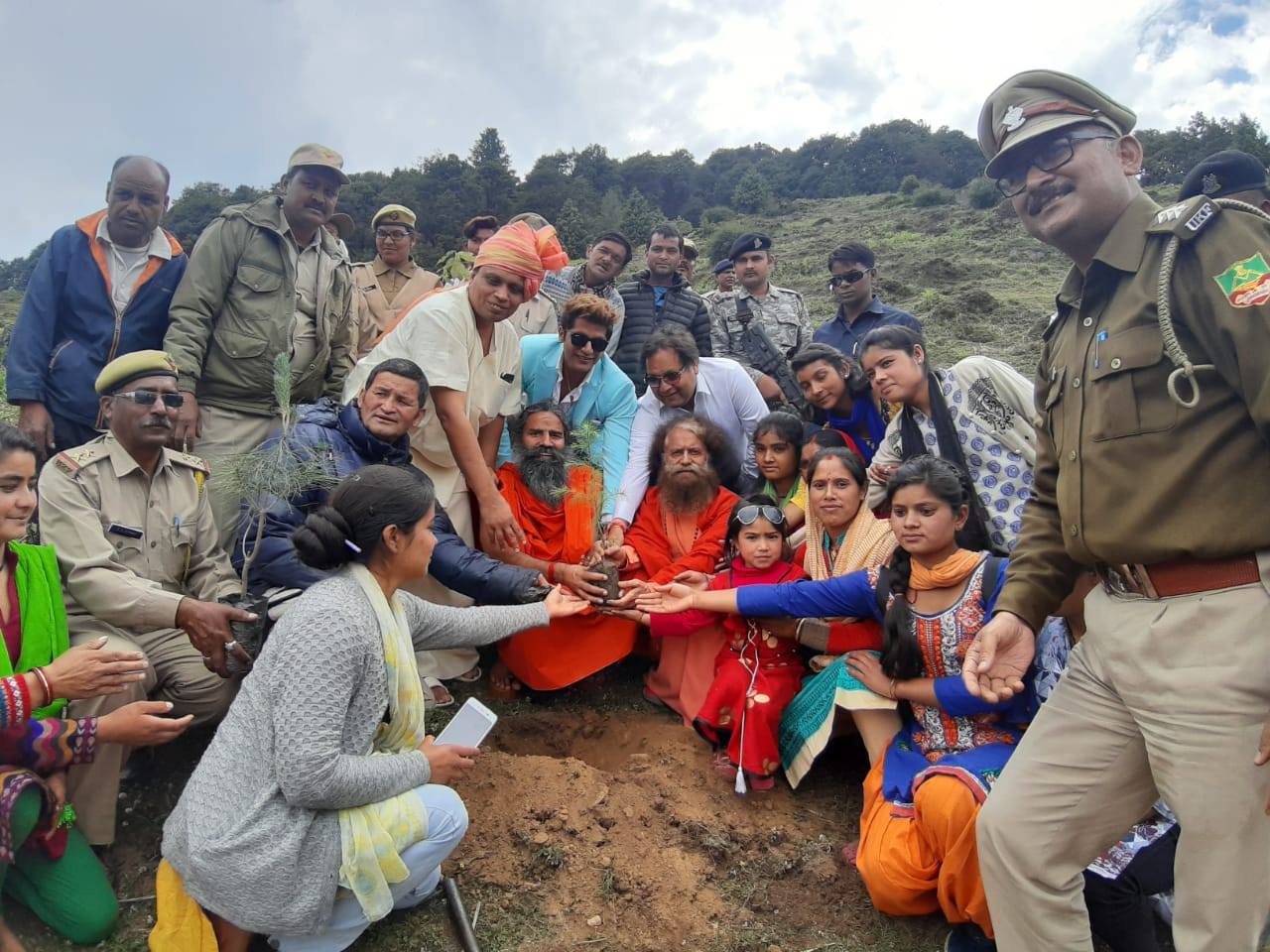 High in the Himalayas for Yoga Day 2019
21-22 JUNE – AULI/BADRINATH: While Parmarth Niketan hosted a hugely-successful International Day of Yoga celebration, with His inspiration and leadership, in Rishikesh, on the holy banks of Maa Ganga, HH Pujya Swami Chidanand Saraswatiji was high in the Himalayas, a special guest blessing and gracing the wedding of the two sons, Suryakant and Shashank, of South African Business Magnate Shri Ajay Guptaji and Shri Atul Guptaji, from the 20-22nd June.
HH Pujya Swami Chidanand Saraswatiji spent International Day of Yoga weekend atop the Himalayan Mountains where he spread his message of environmental protection and living a yogic lifestyle.https://t.co/HggAuvh9ld#wedding #greenwedding #internationaldayofyoga #yogaday2019 pic.twitter.com/WXKG5ldwnK

— Pujya Swamiji (@PujyaSwamiji) June 23, 2019
On 20th June, Pujya Swamiji carried his message of environmental protection and preservation of Indian culture and heritage to Auli, speaking to the assembled family and friends about how motivating the marriages of the two young men actually was and the message that it sent to the world. "To come from foreign soil," He began, "and yet to choose to hold your marriage in line with your parent's values on Indian soil, celebrating Indian culture and Vedic mantras, especially when you have the option to celebrate your wedding anywhere in the world, is extremely inspiring."
Everyday should be #YogaDay– Glad to join Pujya @yogrishiramdev, Pujya @Ach_Balkrishna in #Yoga on the Mat and then off the Mat with planting trees and green pledge in Auli, #Uttarakhand. https://t.co/HggAuvyKcL #YogaDayEveryDay #YogaDay2019 pic.twitter.com/zmNa4JyDlS

— Pujya Swamiji (@PujyaSwamiji) June 23, 2019
He added, "A wedding without alcohol, with vegetarian food, free from onions and garlic and no single-use plastic products. A wedding permeated by the chanting of the mantras and the practice of Yoga- this is a Divine Union, in line with the sacred philosophy of the saints. As young people you have returned to your roots, and have honored both your families and your sacred ancient and timeless heritage."
In keeping with the perspective that every day is Yoga Day, on the 22nd June, Pujya Swamiji joined Pujya Yogrishi Swami Ramdevji for a two-hour Yoga practice session with over 200 guests and 10-degree temperatures forming a dramatic and beautiful backdrop to the double-wedding, which took place over four days.
In keeping with the Green theme of the ceremonies, the Gupta family planted 120 plants and trees, including Cedar and Rudraksha, in the area surrounding the wedding site, and offered their commitment and support to the untiring efforts of Pujya Swamiji to make India Clean and Green, guarantee clean water throughout the world, and ridding the planet of the scourge of plastics and their destructive effect on the environment. "The message," declared Ajay Guptaji, "is that we must exhibit care for our environment or else we will suffer the consequences."
Members of the wedding party were given their own Rudraksha saplings and asked to commit to planting them in honor of the marriages. "The Rudraksha," declared Pujya Swami Ramdevji, "is the perfect symbol for this auspicious occasion. Not only are the brides and grooms entering married life, they're also entering a new green, saatvic and spiritual union to each other."
Following the beautiful wedding ceremonies in Auli on the 20th June, HH Pujya Swami Chidanand Saraswatiji joined Her Excellency the Governor of Uttarakhand, Smt Baby Rani Mauryaji, Pujya Sant Shri Ramesh Bhai Oza ji and Pujya Acharya Balkrishan ji of Patanjali Yogpeeth to meditate in Badrinath Dham on the occasion of International Day of Yoga.
Pujya Swamiji shared on the occasion, "Yoga is not merely what we do but who we are. Hence, meditation, introspection and Union with the Divine is the ultimate goal of Yoga and it's so beautiful to join with our respected saints to reflect and be together in Yoga."
He continued, "You know, the Hon'ble Prime Minister of India, Shri Narendra Modi ji, has brought India's unparalleled heritage of Yoga to many countries in the world. For many years, this heritage has been recognized by the global community. And, Pujya Yogrishi Swami Ramdev ji has done historic work by bringing Yoga into every household. These two men have brought Yoga to every home and are reaching every person. Through Yoga, we can mitigate stress, achieve mental and physical health and long-life. Yoga has the power to make the world a family, to bring harmony and equality to the world. All of this can be established through yoga. On International Day of Yoga it is clear that the River- the Ganga of Yoga continues to flow through every heart."
Echoing that theme, His Excellency Smt. Baby Rani Mauryai ji stated that, "Yoga is a significant part of India's rich culture and spiritual discipline which, if practiced regularly, creates balance between our thoughts and action. It is good for both mental and physical health, as it helps organize physical and mental energies. It is a matter of pride for all of India that the international community has accepted it and made it a part of their lifestyle. All of this is possible because of the tireless and visionary efforts of our Hon'ble Prime Minister Shri Narendra Modi, who has called for our countrymen and for all of the citizens of the world to adopt our divine tradition and live a healthy life."
Pujya Sant Shri Ramesh Bhai Oza ji, meanwhile, declared that "Yoga purifies one's character and thoughts, and purifies life. Just as we take a bath to purify our bodies, we must bathe in Yoga and meditation for the overall purification of body and mind."
In closing, Pujya Acharya Balkrishan ji opined that, "Whatever we do in life can become Yoga. Yoga is a lifestyle. It's easy and it's effective. The person who puts themselves through the fire of Yoga is not persecuted by any disease or fear. For them every moment and every minute is Yoga- for them Yoga is Life and Life is Yoga!"
HH Pujya Swami Chidanand Saraswatiji then announced the first-ever National Yoga Week, to be held from December 1-7, 2019 at Parmarth Niketan in Rishikesh. Focusing on the homeland, it seeks to unite all 29 states and 6 territories in India in the yogic discipline and through programs designed to bring awareness to the benefits of the Yoga lifestyle for ourselves, our communities and the world. This event is in addition to the International Yoga Festival, also hosted by Parmarth Niketan, which will be held next year from March 1-7, 2020.