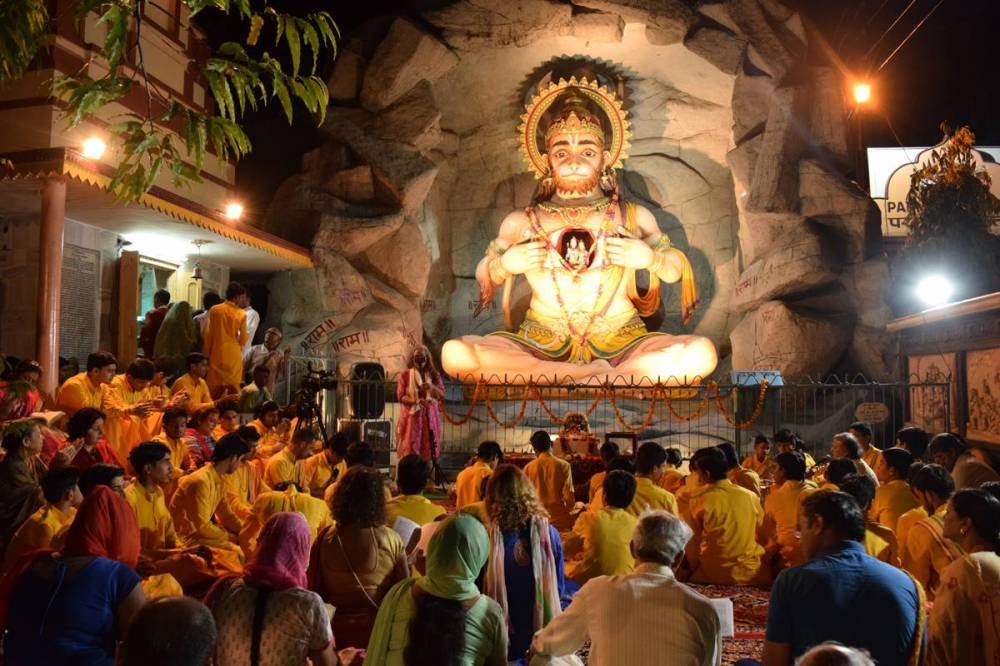 Hanuman Jayanti: Celebration of True Devotion
Beautiful, devotion and love filled celebrations for Hanuman Jayanti took place on the banks of Mother Ganga, in the lap of the Himalayas, at Parmarth Niketan, with the blessings and divine presence of HH Pujya Swami Chidanand Saraswatiji.
The special festival began in a clean and green way in which Pujya Swamiji and the Parmarth Rishikumars took their daily walk through the local envrions of Rishikesh, cleaning up and picking up trash. They also happened to meet with locals along the way, a growing population of a few families who are just off of the Boothnath Mandir premises and for whom open defection in the forest is a daily practice because they don't have toilets. Nearly half the population is women and children and they use the local government supplied water pump and local stream for their cooking and cleaning needs. Pujya Swamiji, who is observing silence for 15 days, noticed this and directed the volunteers of Global Interfaith WASH Alliance, Ganga Action Parivar and Parmarth Niketan to work and ensure that a toilet complex is provided for these families to end the practice of open defecation. Volunteers took down the details and in the coming days will proceed to not only to build the toilets but engage the families to want to adopt and use them. In this way Hanuman Jayanti started with not only prayers but also prayers in action, to worship, as Pujya Swamiji constantly reminds us, the Creator and simultaneously serve all of creation.
In the evening, special Hanuman Chalisa recitation and divine chanting was organized at the Parmarth Ganga Ghat in front of the grand Hanumanji Murti. Pujya Swamiji, Pujya Raisani Babaji, Sadhvi Abha Saraswatiji and Sadhvi Bhagawatiji led the conclusion of the ceremony with a special puja and offering.
Thereafter, they proceeded into divine Ganga Aarti, in which Sadhvi Bhagawatiji shared the great message of Hanumanji emphasizing, " रामकाज किन्हे बिना मोहि कहाँ विश्राम. Which essentially means that it is through the selfless service of Lord Ram and all that is dear to Him that we find the true rest, the true peace."
Following this there was an incredible satsang, question and answer session, in which the message and the teachings of Hanumanji were shared with people from all walks of life by Sadhvi Bhagawatiji. fb.me/2gDCqp3Xs The devotion filled evening concluded with the Sundar Kand Path recitation on the banks of Mother Ganga in the lap of Hanumanji at Parmarth Niketan. The recitation is of chapter of the Ramayan that is known as the Sundar Kand, or the beautiful chapter, sharing the story of Hanuman and his great love and dedication to Lord Ram.