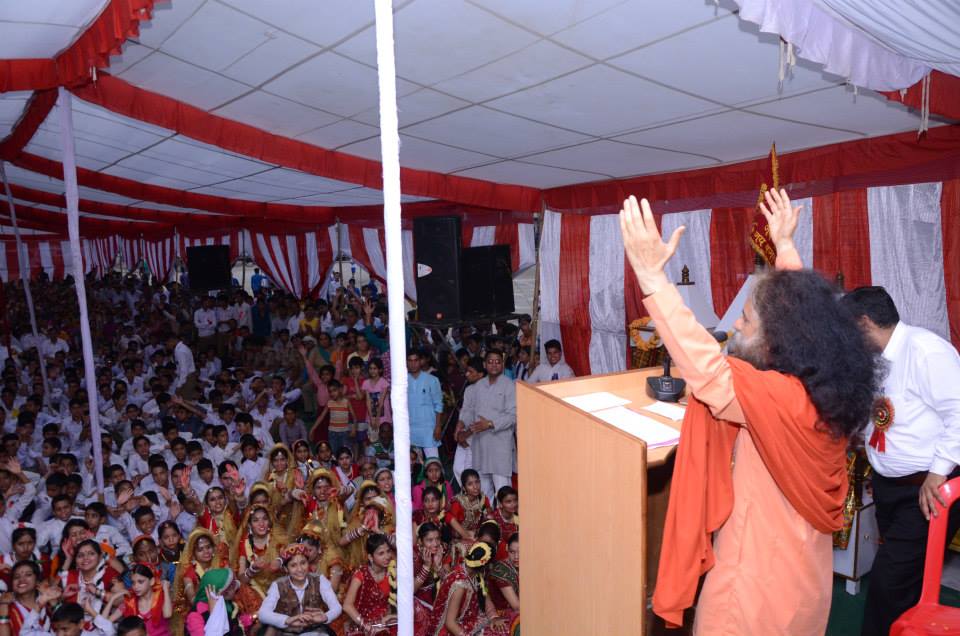 Green Teacher's Day in Uttarkashi
Pujya Swamiji travelled to Uttarakashi on the occasion of Teacher's Day and addressed over 2,000 students at the Ganesh Dutt Secondary School. The function celebrated Pujya Swamiji's much anticipated arrival with a beautiful cultural programme highlighting the recent Nanda Raj Jat Yatra and other folk dances. Pujya Swamiji inspired students, teachers and every citizen to celebrate all festivals and holidays with a green touch and a green message.
He said, 'Mother Nature is the best teacher and on this special day when the whole nation is celebrating Teacher's day, let us celebrate by planting more and more trees and reaffirming our commitment to give back to Mother Earth, offering our gratitude for the priceless lessons that She teaches us.'
A special Ganga Aarti that was lead by Pujya Swamiji and Parmarth Rishikumars on the banks of the River Ganga in Uttarakashi as yet another celebration of the Divine Mother and Divine Teacher- which as Pujya Swamiji also shared, gives us a example of how to serve, serve and serve with no hesitation, no discrimination, no expectation and no vacation.
He was joined by the Minister of Urban Development of the state of Uttarakhand, Shri Pritam Panwarji, on their visit to the Varunavat Mountain. They collectively took part in tree plantation; nearly 551 Rudraksh trees were planted and sponsored by the Ganga Action Parivar.
With Pujya Swamiji's divine vision and leadership, GAP is working with local groups and experts to establish a sacred Rudraksh Van (Forest of Sacred Rudraksh trees) in Uttarakashi as a memorial garden in honour of those who lost their lives in last year's tragic floods. He said that Rudraksh forests should be established in key spots along the pilgrimage and pilgrims should be offered the divine prashad of the Rudraksh seeds to take home with them in memory of their green pilgrimage and as a symbol of the seed of their commitment and pledge to Mother Ganga.
Pujya Swamiji inspired Shri Pritam Panwarji to plan green pilgrimage in such a way so that when pilgrims travelling through Uttarakashi, on their way to Gangotri and/or Yamunotri, should get a sacred sapling that they can plant along their yatra.
The next day, Pujya Swamiji visited the Vishwanath Sanskrit Mahavidyala where He inspired another large group of students with His green vision and green mission. Saints from the Shivananda Ashram joined him on the occasion and welcomed Him home.
A bhandara was also organized at the Kailash Ashram for all saints and locals and Pujya Swamiji personally served and blessed the divine feast as well as inspired them to join together on this green pilgrimage to make Uttarakashi clean, green and serene for all.
[fbalbum url="https://www.facebook.com/media/set/?set=a.811719722183204.1073741978.195396983815484&type=1″]