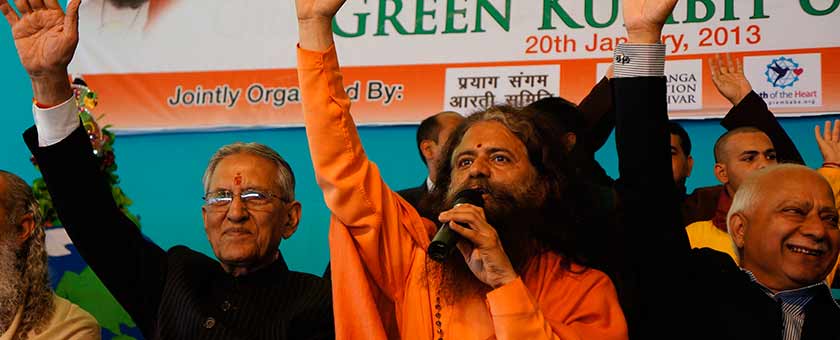 Green Kumbh Utsav
On January 20th, Ganga Action Parivar organized a special procession of 5,000 school children from thirty Allahabad-area schools, to inspire them in solidarity and support for saving the Ganga and Yamuna Rivers. The students paraded through the grounds of the Kumbh Mela, singing songs and carrying hand-made signs, some of which stated, "Ganga's Rights are Our Rights", finishing their march at the Ganga Action Parivar camp.
His Excellency Uttar Pradesh Governor, Shri B. L. Joshiji was guest of honor at the event, whom Pujya Swamiji named our "Green Governor." The program was organized in order to harness and channel the energy of the youth to protect and preserve the rivers and environment of India.
The children were inspired by to the stirring words of Pujya Swamiji and the Hon'ble Governor, who appealed that all must come together to take action to clean and restore the Ganga. Afterwards, all participants received tree saplings, which they will plant in their own communities.