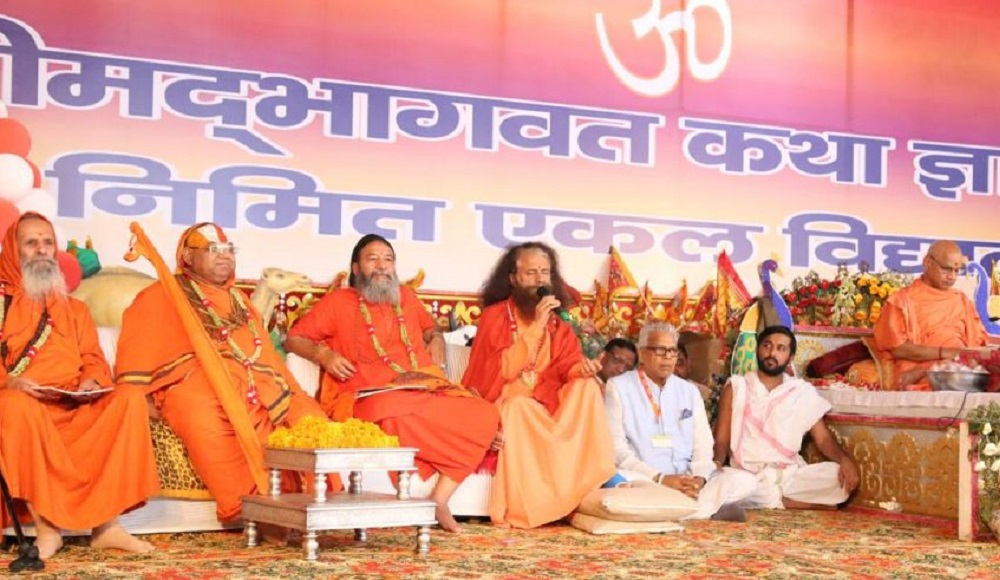 Green Katha in Support of Ekal Vidyalaya: Siksha & Sanskara
A special seven-day Shrimad Bhagwat Katha by Pujya Swami Govind Giriji was jointly organised by Bharatiya Lok Shiksha Parishad (BLSP) and Parmarth Niketan on the Parmarth Ganga Ghat. The Katha was especially organized to support and help the Ekal Vidyalaya Foundation scale, expand and build one lakh schools for villages across the nation. The concept was blessed by Pujya Swamiji.
On this occasion, Pujya MM Swami Asanganandji of Parmarth Niketan said that by giving donations to human values and education we were not building the future of a child but the future of the nation. All saints lauded and blessed the Ekal Vidyalaya and the efforts to integrate Siksha (Education) and Sanskaras (Human Values) together for a stronger and more resilient India.
The goal of a Ekal Vidyalaya is to educate and connect the farmers, tribals and the most disadvantaged communities of our nation together towards their empowerment and active engagement in building a better nation. Through the Ekal Vidyalaya, 67 thousand schools are being run in remote areas of India, through which about 18 lakh children are being provided basic education, sanitation, and environmental protection. In Uttarakhand alone, more than 1350 centers of Ekal Vidyalaya are being run in Khatima, Chamoli, Udham Singh Nagar, Almora and many other areas.
Pujya Swamiji spoke beautifully about the start of the Ekal Foundation and the conception of this mission to educate every child and to reach the most disadvantaged communities with the power of Siksha and Sanskar. He lauded all of the members of the initiative and blessed those present in the Katha with sacred Rudraksh saplings, symbolizing their commitment to educating a generation that is more conscious and ready to protect their environment and their sacred rivers.
Saints who graced the Katha included:
MM Pujya Swami Asanganand Saraswatiji
Pujya Ramanandacharya Swami Hansdevacharyaji
Pujya Swami Shri Achyutanand Teerthji
Pujya Acharya MM Swami Balkanandji Maharaj
Pujya Acharya Shri Avichal Maharaj
Pujya Prabhadhishwar Acharya
Gitamanishi MM Pujya Swami Gyananandji
Yogpurush Pujya Swami Parmanandji Maharaj
Pujya Sadhvi Ritambharaji (Didi Maa)
MM Pujya Swami Harichetanandji
MM Pujya Swami Ishwar Dasji
MM Pujya Swami Jyotirmanandji
MM Pujya Bhakta Hariji
and senior members of the Ekal Vidyalaya Initiative and BLSP