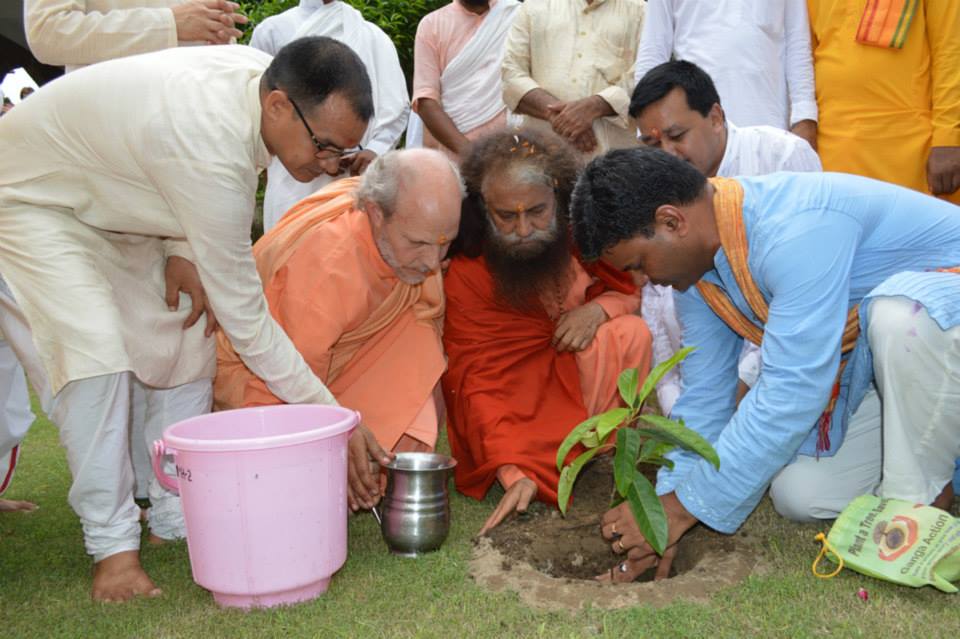 Green Guru Purnima Celebrations
This year on the divine occasion of Guru Purnima, Parmarth Niketan (Rishikesh) celebrated and rejoiced in the divine presence of HH Pujya Swami Chidanand Saraswatiji celebrating the beautiful milestone of Pujya Swami Shukdevanand Saraswatiji's 50th Nirvaan Divas.
Nirvaan Divas has great significance in the Indian spiritual tradition because it allows us to not only celebrate the day in which a noble soul has attained the ultimate goal- the full and complete union with the Divine- Nirvana or Moksha. It reminds us that this milestone is the ultimate destination, greater than any other occasion in our lives, and that it is possible for us, no matter who we are, to also reach this Divine Union if we can cultivate and live our lives according to the teachings of our Guru.
Guru Purnima is celebrated on the full moon day in the month of Ashadha and marks the beginning of the holy period of Chaturmas. In Sanskrit, Gu means "darkness" and ru is"that which removes," so a Guru is one who removes the darkness in our lives, who shines the light of Truth on the illusions in which we live which cause our agony, our pain, and our suffering.
This year, Pujya Swamiji led us by His divine example and transformed our Guru Purnima into a Green Guru Purnima, a Green Festival.
Upon His arrival, Pujya Swamiji visited Pujya Swami Ved Bhartiji's Memorial in Rishikesh, where recently Pujya Swami Veda Bhartiji had taken Mahasamadhi and left His physical body. Pujya Swamiji paid His respects to the great saint, visionary and scholar, who had authored many books to guide people along their spiritual journey, by planting a sacred Rudraksha in his memory.
Just before His passing, Pujya Swamiji had sent him a beautiful Rudraksha as a gift to plant in his ashram, upon receiving it Swami Veda expressed his wish that Pujya Swamiji should personally come to plant the sacred sapling here, on this divine occasion his wish was indeed fulfilled.
Thereafter, Pujya Swamiji reached Parmarth, He planted a tree to mark the Green Festival and was warmly welcomed by all the Rishikumars and devotees. Pujya Swamiji's performed special pooja of Pujya Swami Shukdevanandji and paid homage to the Guru tradition of the ashram. Pujya Swamiji's devotees lined His green hut to perform sacred Guru Pooja and offer their love and their devotion in the form of songs, poems, new service projects flourishing under His inspiration and so many other unique ways.
During the Ganga Aarti, He inspired everyone for the sacred month of Shrawan (all of August) to plant as many trees as possible, He said that by restoring greenery we were giving the greatest gift, paying the greatest homage to our Guru, Ganga and Mother Nature.
[fbalbum url="https://www.facebook.com/media/set/?set=a.10153462338182698.1073741997.86246862697&type=1&l=f30d44bac5″]