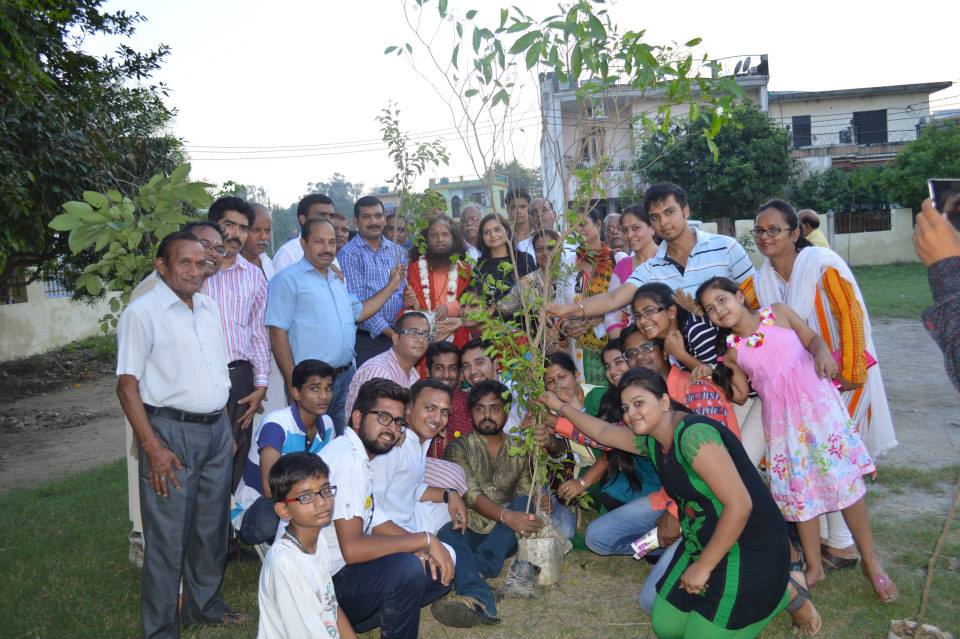 Green Guru, Pujya Swamiji, Inspires Crazy Green Drive
Pujya Swamiji's green inspiration planted a seed in the hearts of the people of Saharanpur, inspiring the plantation of over 3,000 trees in 200 parks.
Pujya Swamiji visited the city for a special plantation drive organized by a group of environmentalists and activists of the Crazy Green organization in partnership with Ganga Action Parivar, with the full support of the Municipal Commissioner, Shri Niraj Shuklaji, who also has been awarded as one of the best municipal commissioner's in India.
All kinds of beautiful species of plants, from flowering to shade giving, from fruit bearing to air purifying trees were planted, engaging and involving the local community.
The Crazy Green group has been dedicated to greening the community in previous years but were glad to be able to carry-out a major, city-wide effort, with Pujya Swamiji's blessings. Through their plantation they are engaging the local community, informing them of the Green Drive, encouraging them to plant in their own homes, gifting them a free sacred Tulsi plant and reminding them to take care for their plants and their parks. They also personally take frequent rounds and ensure that the trees they have planted are doing well and the parks are maintained.
Pujya Swamiji meet with the dedicated members of Crazy Green and shared, "So many people all over India and all across the world are crazy about so many things but what the world truly needs more of is for all of us, collectively, to be Crazy about Green. To Do Green and to Live Green. You are the divine examples for everyone and I am so impressed by the work that you are doing. I and Ganga Action Parivar are with you in whatever capacity or support you may need to spread and sustain this initiative. I hope that more and more cities across India should take your example and become crazy about greening and cleaning their communities."
Pujya Swamiji also visited and was deeply touched by a special school in Saharanpur which is providing education to 250 rag picker's children. He pledged the support of Divine Shakti Foundation and Global Interfaith WASH Alliance to contribute and support this noble educational endeavour and to help reach out to more children in need of these services.
[fbalbum url="https://www.facebook.com/media/set/?set=a.1007645029257338.1073741984.195396983815484&type=1&l=ca5af0de27″]