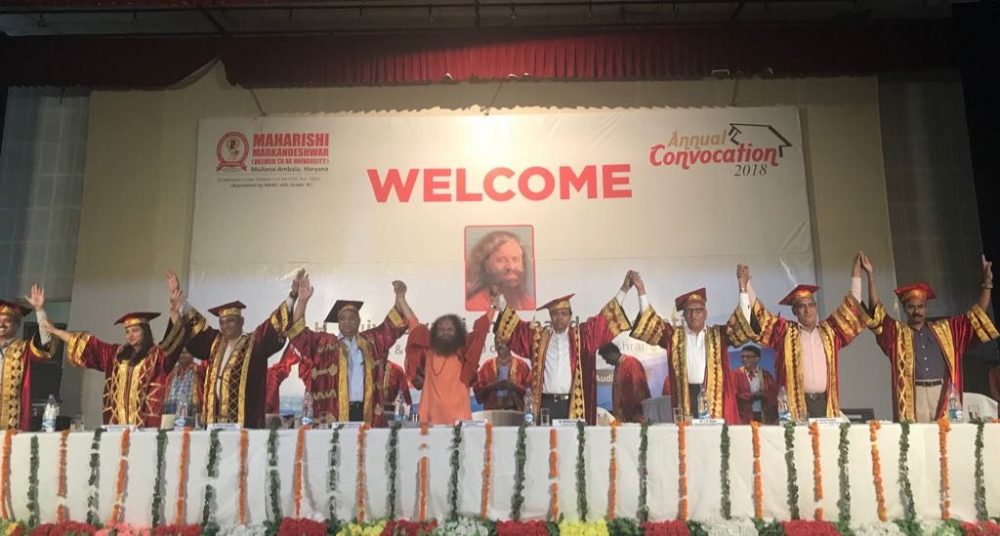 Graduating with a Green Beginning and Giving Back to Mother Earth
Maharishi Markandeshwar University​, Maulana Ambala held it's convocation yesterday. HH Pujya Swami Chidanand Saraswatiji​, President of Parmarth Niketan​ (Rishikesh) graced the occasion with his presence as the Chief Guest and delivered an inspiring and green convocation address. Hon'ble Chancellor Dr Tarsem Kumar Garg presided over the function.
Ceremony started with lighting of the lamp followed by Saraswati Vandana. After that Chancellor declared the convocation open. 93 students were conferred Doctoral degrees, 591 students received Master's degrees and 1568 received Bachelor's degree from the University in various fields, ranging from Engineering, Medicine, Computer Applications, Business Management, Nursing, Physiotherapy, Hotel Management, Law, Pharmacy, Dental and many more.
Delivering the convocation address, Pujya Swamiji encouraged the students to utilise the power of silence and the power of thought to progress and peace in their lives. He led a pledge that as many children graduating that many trees should be planted. As this was a new beginning for everyone it was a wonderful opportunity to give back to Mother Earth that has given us so much to us. He also mentioned the importance of siksha (education) with sanskaras (values) as a way to truly be the building blocks for a sustainable and prosperous nation. He said that along with Make in India program when we commit to living and applying our sanskaras (values) then we are doing our vital and pivotal part in Making India into Ek Bharat, Shresth Bharat (One India and Best India). Pujya Swamiji also lauded the Hon'ble Chancellor for running and handling a large number of projects and appreciated his hard work and vision.