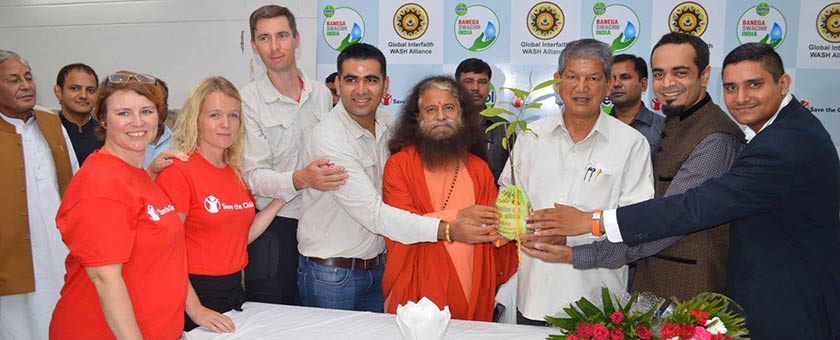 GIWA Welcomes Detol-RB's Global Reps Home to Uttarakhand
The Global Interfaith WASH Alliance (GIWA), Parmarth Niketan (Rishikesh), welcomed special delegation of 46 Global Representatives of RB (formerly known as Reckitt Benckiser, popularly known in India by its household product-Dettol), to Uttarakhand recently.
The representatives had raised nearly 2 crore Rupees to serve in the Himalayan state of Uttarakhand, bringing WASH awareness and education in their planned interventions in the districts of Haridwar-Laksar and Udham Singh Nagar, as part of their Banega Swachh India-Campaign Challenge. Their visit and service project was graciously inaugurated by the Hon'ble Chief Minister of Uttarakhand, Shri Harish Rawatji, with whom they discussed the plans for Banega Swachh Uttarakhand campaign in the near future.
During their visit, they interacted with the local community on tasks such as painting, hygiene messaging, taking part in hand washing demonstration and other Water and Sanitation, Hygiene (WASH) related activities.
GIWA, WTO and RB have also recently announced their plans to launch the World Toilet College, as a world-class institution that would train sanitation professionals and work to improve WASH for all.
To learn more about this project, be sure to read: https://www.facebook.com/media/set/?set=a.10153574428637698.1073742031.86246862697&type=3
[fbalbum url="https://www.facebook.com/media/set/?set=a.10153614648622698.1073742044.86246862697&type=1&l=e320ad70e1″]