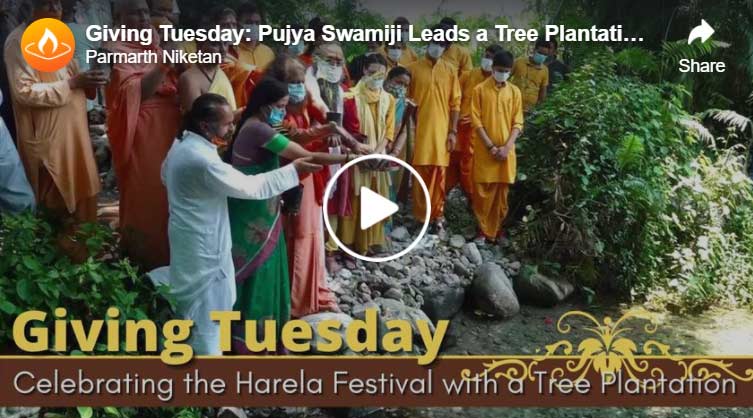 Giving Tuesday: Pujya Swamiji Leads a Tree Plantation During Festival of Harela
Caring for…supporting…defending the environment has always been an important one of the many ways that HH Pujya Swami Chidanand Saraswatiji honours Giving Tuesday by giving back to the community and to humanity. So Uttarakhand's annual Harela Festival – the Day of Green – is an especially important one on the Ashram calendar!
Sharing so eloquently about this year's event, Pujya Swamiji said, "The festival of Harela gives us the message of the beginning of a new season. It is a symbol of happiness, prosperity and peace and a festival of plantation and nature conservation. Our ancestors gave us a message to plant a sapling after worshiping Harela at the beginning of the month of Shravan so that the unbreakable relationship between man and nature can be made stronger.
"Life and sustenance come from nature and the environment," Pujya Swamiji continued. "We have property and progeny, so do not exploit nature but enrich it. By connecting cultural activities with the environment, everyone can come together to create public consciousness and awareness among teachers, school children and the public so that the campaign of greenery and prosperity can be carried forward from Harela to every day of the year!"
At this year's celebration, Pujya Swamiji joined Smt Anita Mamgain ji, Mayor of Rishikesh; Mahamandaleshwar Pujya Swami Ishwardas ji; Pujya Swami Anand Swaroop ji; Shri Ravi Shastri ji; Shri Gopaldas ji from Shri Krishnashram Bhagirathi Dham; Swami Shri Lokeshdas ji; Parmarth Niketan Rishikumars; members of the Global Interfaith WASH Alliance; the #ParmarthYouthAlliance; municipal officials and councilors on the original bank of the Rambha river to commemorate the Harela festival by worshiping and planting saplings.
Pujya Swami ji said that celebrating Harela festival at every home and at every shore will lead to greenery and happiness. If we all plant trees together we will repay the debt of every breath and contribute in furthering this precious culture of Harela!"