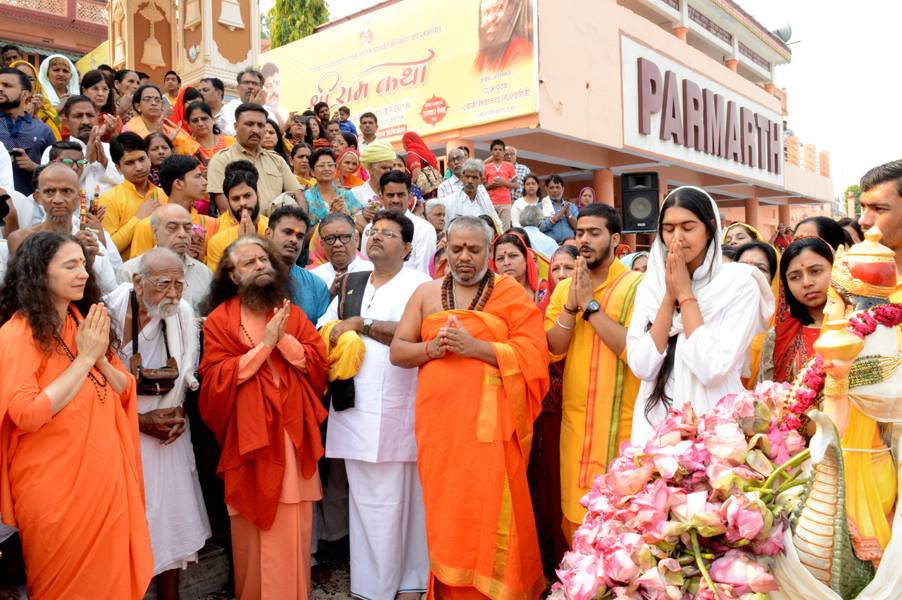 Ganga Dussehra Celebrations at Parmarth Niketan
Divine Ganga Dussehra celebrations on the holy banks of Mother Ganga at Parmarth Niketan (Rishikesh) took place in the presence of Pujya Swami Chidanand Saraswatiji​, Pujya Sant Murlidharji Mahraj, Pujya Swami Vedvigyanandji Maharaj, Pujya Sadhvi Bhagawati Saraswati​ji and many respected Jain monks who had traveled by foot for many days and had arrived to meet Pujya Swamiji. Ganga Dussehra is a celebration of the time that Divine Goddess Maa Ganga came down to Earth in the form of the flowing sacred River Ganga.
The day began with the chanting of ved mantras and the sacred Ganga Sahastranaam (1000 names of Maa Ganga that glorify and shed light to different aspects of her divinity) on the Parmarth Ganga Ghat, along the flowing waters of the sacred river. With each divine name, one beautiful lotus flower was offered to the Divine Goddess in Her female form, symbolised by a sacred and beautiful murti. The pooja was performed by 16 rishikanya (female Gurukul students) from Sri Vedya Peetham, Basar along with our Parmarth Rishikumars.
Hundreds of devotees offered their love and devotion to the Mother Goddess by offering a sacred lotus at Her feet, after which upon the completion of the pooja the lotus was offered back as prasad to all devotees. The purnahuti of the celebrations as well as special Ganga Aarti took place in the divine presence of our respected saints.
Watch the celebrations live:
https://www.facebook.com/ParmarthNiketan/videos/10156514074422698/