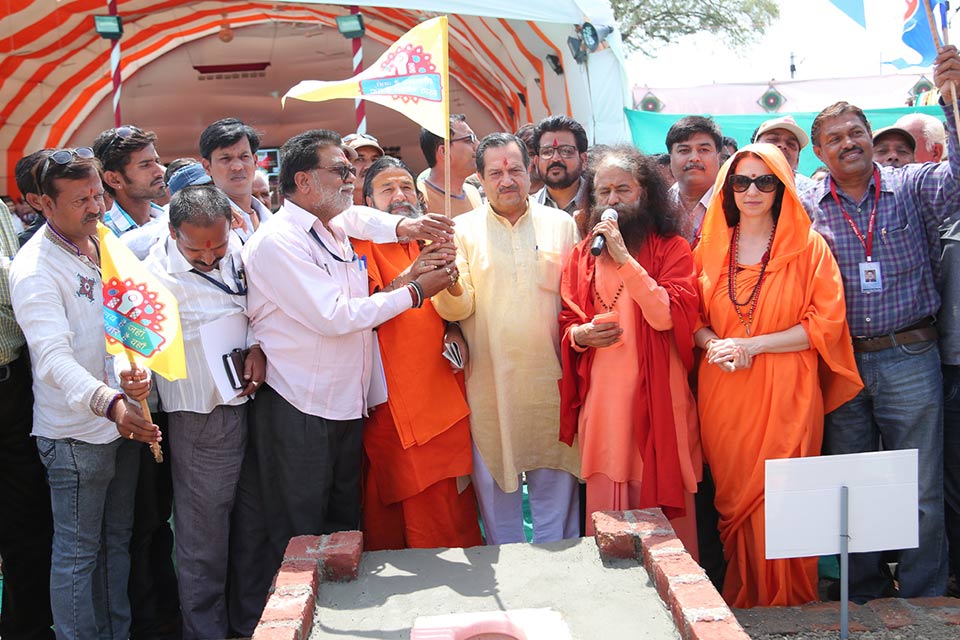 From Temples to Toilets
Dusk dissolved into night as we drove. We were on the road to the holy town of Gangotri, driving in delicate spirals through the Himalayan hills. Below, the moon was already dancing across the waters of the Ganges. Ahead, a smattering of isolated villages– split apart by long stretches of nature– was illuminated only by our car lights.
Suddenly, something moved, so quickly, from the bushes. It was a human form. Then appeared another one, just thirty seconds later. I asked the driver to stop the car.
As my eyes adjusted, I could just barely see the outlines of women walking through the foliage. Some would stop and descend slowly into the leafy folds of nature. Yet, as the lights of cars approached, they would clamber, like frightened deer, deeper into the bush.
The behavior was so strange. The reason why, I learned, was tragic.
Worldwide, it is estimated that 2.3 billion people don't have access to proper toilets. In India it is hundreds of millions. The women we spotted that evening were among these: waiting for the privacy of night to heed nature's call. Risking attack, injury and loss of pride, many have no choice but to perform their most private of bodily functions on the sides of roads for fear of wildlife. Yet, they are similarly forced to hasten away if a car is to pass, out of deeply-ingrained modesty.
From this, they suffer painful infections and excruciating indignity, as do their daughters. Many little girls, I was told, are forced to drop out of school simply because there is no proper toilet facility to shield them from prying eyes. Some will never learn to read. Some will never have the chance to grow beyond the boundaries of their home villages, for the simple deprivation of having had no toilet.
My life changed that Himalayan evening.
For more than thirty years, I have had the blessing to help communities worldwide build temples. They now grace four continents. Yet on that day, I realized that our society is in far weightier need of something much more fundamental: sanitation. For peace of mind. For the future of our world's children. For society itself.
The focus of my life turned from temples to toilets.
Largely as a result of that powerful moment, we launched the Global Interfaith WASH Alliance at UNICEF World Headquarters in 2013, under sponsorship of USAID and the Government of the Netherlands. GIWA is the world's first initiative to bring together the major faiths to inspire a world where all may have sustainable access to healthy water, sanitation and hygiene (WASH).
The guiding force behind GIWA's many programmes is that faith forms a crucial foundation of society, impacting, influencing and determining personal choices ranging from the meals we eat, to the people we marry, to the places we live, and beyond. Given that 83.6% of the world's population considers itself affiliated with a faith (it's 99% of the population in India), faith-inspired messages for changed behaviour can impact lives as no others can.
Today, through our wide-range of programmes in just a few short years, GIWA has directly impacted millions of lives on the grand level and the ground level through large-scale interfaith events, far-reaching campaigns, and programmes that include our WASH on Wheels Travelling Theatres, WaterSchool, the Ganga River Institute, the World Toilet College, the Women for WASH Initiative, the Interfaith Humanitarian Network, and the Green Festival Initiative.
And the model is working. In the past 6 months alone, GIWA has led and inspired more than 1.5 million pledges for an open-defecation free India by faith leaders and followers. In addition, evaluations from our recent WASH on Wheels campaign, which touched hundreds of thousands of lives in the Indian state of Bihar, found that 94.52% of the respondents said they were more likely to construct their own toilets after participating in our programme. 95.36% of respondents were more likely to tell others to always use toilets, after our programme as well.
GIWA also has become widely-recognized for its Green Festival Initiative, which focuses on inspiring the masses at enormous gatherings of humanity, including the Kumbha Melas (holy festivals which attract millions). During the most recent month-long Kumbha Mela, independent evaluators determined that an estimated 1,747,800 people were exposed to our messages that promoted the building and use of toilets. It was determined that those who were exposed to our mass interfaith programmes and awareness-building activities were significantly more likely to construct a toilet in their household than those who were not exposed to our campaign, with 85% finding our messages useful.
As an extension of our work, GIWA is now working to cultivate a new generation of WASH leaders through classes held in schools every day under the WaterSchool programme. Through it, students are inspired to love water, and to act as its steward. Our activities include children-led sanitation mapping and planning, clean-ups, the planting of trees, and even a current letter-writing campaign that has inspired students to send messages to make the Himalayan segment of the Ganges River (which is one of the most endangered rivers in the world) a UNESCO World Heritage Site.
Leaders for water are what our world needs more than anything. More people perish each year due to lack of clean water than due to all forms of violence combined.
By the year 2030, it is predicted that India will have only half the water it needs. By the year 2040, the world will have caught up to this tragic trend, leading to increased threats of hunger, violence, and mass displacement.
From great inspiration can come great change, and that is what we are seeing every day through GIWA. To me, this brings an extra bonus, for we have seen that through the coming together of all faiths for a common cause, bonds of friendship and mutual-understanding also form as never before. As a result, more peace ensues between communities, by bringing interfaith dialogue into progressive action for a healthier, more sustainable world.
Just recently, this came to light in a beautiful way as I stood before an audience of thousands of yoga practitioners from over 100 nations and a multitude of faiths gathered at our ashram here in Rishikesh, Parmarth Niketan for our annual International Yoga Festival. Together, they pledged to take action for water, sanitation and hygiene for all. Many of these people took yoga off the mat for a mass clean-up of the beautiful banks of the Ganges River. As we saw people from these disparate– even warring– nations serving side-by-side, we saw the differences of faith, nations, castes and creeds transcended, as WASH in and of itself, became a great yoga….a great unifier.
So now it is the time, to come together, and work together for the world that we all deserve to live in, through the power of our combined time, talents and tenacity. I am sure, in such a way, that only great good can ensue, through WASH as a call of faith.
To learn more about the Global Interfaith WASH Alliance, please visit www.WashAlliance.org.