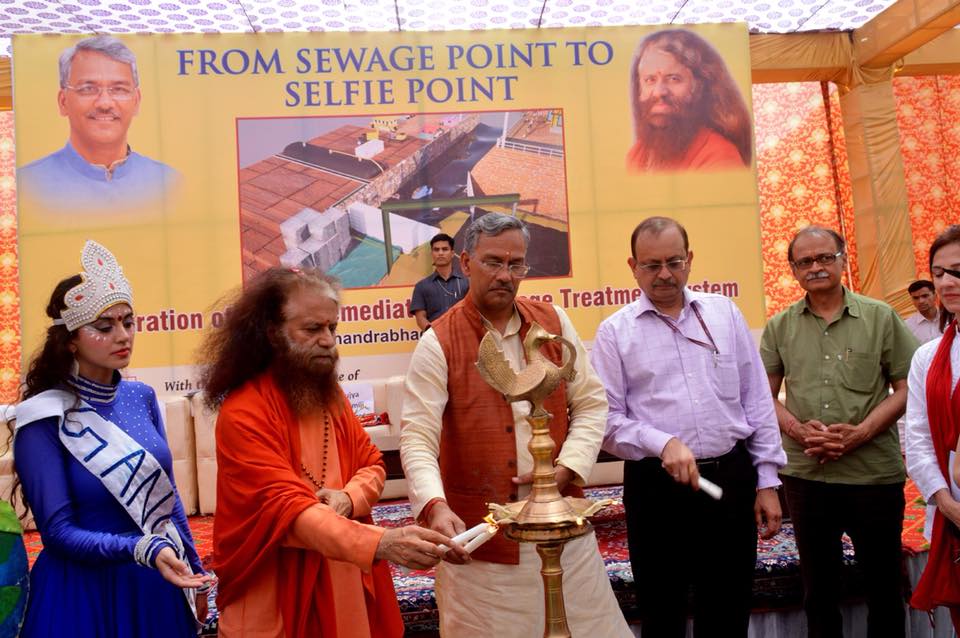 From Sewage to Selfie Point
Inauguration of a Bio-remediation Sewerage Geotube Treatment System at the Chandrabhaga Nala, Rishikesh
RISHIKESH: Today saw the historic and pivotal inauguration of a innovative, simple and effective Bio-remediation Sewerage Geotube Treatment System at the Chandrabhaga Nala in Rishikesh by the by the Hon'ble Chief Minister of Uttarakhand, Shri Trivendra Singh Rawatji with the blessings, leadership and divine vision of HH Pujya Swami Chidanand Saraswatiji in the august presence of Hon'ble Speaker Legislative Assembly, Shri Prem Chand Aggarwalji, the Director General Namami Gange, Government of India Shri Rajiv Ranjan Mishraji, Chief Secretary Uttarakhand Shri Utpal Kumar Singhji, Honble Principal Secretary for Ministry of Drinking Water and Sanitation, Govt of Uttarakhand, Shri Arvind Singh Hyanki, Hon'ble Ambassador of Costa Rica Ms Mariela Cruz, Famous Artist Ms Rouble Nagi, Founder of Misaal Mumbai initiative and many others.
The project has been undertaken by the Ganga Action Parivar- Parmarth Niketan, who has been responsible for facilitating and advocating for the solution to be executed as a pilot plan in Rishikesh, together with Flexituff International Limited & Ingeo Contractor Private Ltd, as the technology and implementation partners.
The in-situ technology set up in a course of a little over a week has first chemically coagulates the solid from the liquid part of the wastewater, then pumps the water through large Geotube membranes that further trap the solid waste and sludge treating the water to some 80-90%. The aim of this particular project is to meet the BIS Standard Water vide Class B IS: 2296-1982 wherein the coliforms will be reduced to 500/100 ml from the current 50,000/100 ml.
Said HH Pujya Swami Chidanand Saraswatiji, "The need of the hour is to become a bridge and serve to convert places of waste and filth into places of wealth and faith. This is the commitment that the Ganga Action Parivar-Parmarth Niketan had taken to work with the Government to find and implement technological solutions that can make the waters of Mother Ganga clean, green and serene for all. It is in this spirit that I envisioned to make this nala an example of how a sewage point can be converted into a selfie point."
He added, "It shows the Hon'ble Chief Minister's commitment when on the day before the International Yoga Day, just before the Hon'ble Prime Minister is supposed to arrive to his state he is here to take Hon'ble Shri Narendra Modiji's pledge and Namami Gange Mission forward by inaugurating this decentralized treatment technology. This is the sign of Karma Yoga, Yoga off the mat and into the world and this is the type of Yoga that is needed today both Naadi Yoga (Yoga to awaken our energy centres) and Nadi Yoga (Yoga to revive and rejuvenate our sacred rivers)."
Said Hon'ble Chief Minister of Uttarakhand Shri Trivendra Singh Rawatji, "I am committed to making the River Ganga free of all drains and wastewater contamination by 2020. This is a great step in that direction. I believe when the government, the people, the civil society organisations come together with the blessings and commitment of our spiritual leaders to tackle and address real life problems and challenges then the solutions are not far. I am glad to see that everyone is coming forward from all walks of life and every background to be a part of the solution and answer the call to action that our Hon'ble Prime Minister Shri Narendra Modiji has given us to ensure a clean National River for all."
Said Director General Namami Gange, Government of India Shri Rajiv Ranjan Mishraji, "The Namami Gange Mission is committed and working actively, swiftely to address the challenges that threaten the National River but I am glad to see that short term and effective solutions such as this technology can illustrate yet another way our government's great commitment to this mission."
Said Chief Secretary Uttarakhand, Shri Utpal Kumar Singhji added his word of appreciation and shared that the Uttarakhand Government is committed to finding solutions to the pollution threatening not just the River Ganga but all water bodies that eventually mix and merge with our bigger rivers and water bodies. he shared that whether its the Rispina or the River Ganga the government is eager and committed to finding solutions that will restore and rejuvenate them.
Hon'ble Speaker Legislative Assembly, Shri Prem Chand Aggarwalji shared that he was glad to see the start of this initiative from his home constituency and appreciated that such solutions to restore and protect our rivers were being celebrated and inaugurated day before Yoga Day, illustrating that Yoga Day is truly every day in Rishikesh.
A special mention and appreciation was given to a young filmmaker Shri Vikas (Dhiragayu Bhava) who was present on the occasion and who made a film that went viral, shared and liked by more then 7 crore people, a few days ago on the same Nala urging devotees not to take sacred Gangajal from Rishikesh and Haridwar and pressed to raise awareness and action from the government to clean the drain and restore the river.
Misaal Mumbai's Rouble Nagi also shared her commitment to work with Parmarth Niketan to make a Misaal Rishikesh and Misaal Haridwar, engaging communities and ensuring clean, green, colourful and artistic solutions across the banks of Maa Ganga in these sacred pilgrimage sites.
Attending the programme were participants and yoga enthusiasts from over 10 countries. They eagerly and enthusiastically welcomed this unique celebration in the yoga capital of the world, Rishikesh, and lauded it as a example of karma yoga or yoga in action.