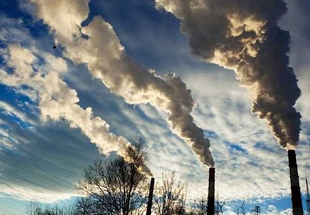 "Farm Waste To Reduce Pollution", The Speaking Tree
Clean, breathable air is not a luxury; it's a basic human right, says SWAMI CHIDANAND SARASWATI, suggesting that we turn agricultural waste into anaerobic boards to improve air quality
This article was originally published on The Speaking Tree, here.
This year Deepavali turned bleak and smoggy in Delhi. Instead of brightly burning oil lamps lighting the night sky, the sky was dark with poisonous haze. News of hazardous and toxic air quality made headlines. The effects of firecrackers and burning agricultural waste from the recent harvest have turned the nation's capital into a gas chamber.
Flights are delayed and even cancelled, schools are closed and no one can stroll happily outside for morning or evening walks due to the deadly air. Even walking for a short distance outside has become a health risk.
Air filters in our homes, offices and even cars is the new norm for those who have the luxury to purchase them. Those who don't have the money to buy them suffer in silence. Both groups have conceded, helplessly, to living, and raising their children, in a cloud of toxicity.
Clean Air
Often when people from Delhi visit Parmarth Niketan, Rishikesh, they exclaim how lucky we are to have clean air. But we have forgotten that clean, breathable air is not a luxury. It's a basic human right. We are violating our own rights, cutting the very roots of the trees that give us shade, clean air and nurture our future generations, in order to build factories, shopping malls and new condo complexes.
We Can Overcome
Fortunately, the dark cloud does not have to hang precariously over our lives forever. There are solutions that are possible, available and do-able. It simply requires that we wake up, pay attention and make finding a solution to pollution our priority. It requires us to step up and ensure our own right to a healthy life with healthy air. The time to find and implement these solutions for the nearly 26.5 million people in the national capital region has come, and that time is now.
THE DARK CLOUD DOES NOT HAVE TO HANG PRECARIOUSLY OVER OUR LIVES FOREVER. THERE ARE SOLUTIONS THAT ARE POSSIBLE, AVAILABLE AND DO-ABLE. IT SIMPLY REQUIRES THAT WE WAKE UP, PAY ATTENTION AND MAKE FINDING A SOLUTION TO POLLUTION OUR PRIORITY.
One excellent win-win solution is Agriboard Technology, a solution that benefits all — farms, farmers and families can be happy and healthy.
The same agricultural waste that currently gets burnt by farmers, turning the air as far away as in Delhi into toxic gas, can become a boon instead of a bane. In Agriboard Technology, the agricultural waste is utilised for its agriculture fibres and natural binders to make highly compressed anaerobic boards, and fixed along with a steel frame to create a strong structure.
This straw is cleaned and then compressed beneath thousands of pounds of weight. The board is then heated at a very high temperature, giving it durability and strength.
After intense research and development this board is not only found to be strong and durable, but also economically and environmentally friendly. It can be used to build homes and all other buildings, too. Instead of having to burn their waste, the waste will be purchased from farmers to make agriboards — putting much-needed money in the farmers' pockets and keeping much needed clean air in the skies above Delhi.
Agriboard is a low-cost biodegradable and completely recyclable product. These boards are able to face fire and earthquakes and are secure from moisture and can even be made waterproof. Imagine a building material that is fire-proof, earthquake-proof, termite-proof and water-proof. The structures made of agriboards can be assembled very quickly and are easy to maintain.
Affordable Homes
Agriboard can also successfully be used for other construction as well, including public toilets, multistorey buildings and hospitals. At a cost of only Rs 1,000 per sq ft, these structures can be the building foundation of homes for people in the economically weaker sections of society, for whom owning their own home is still a distant dream.
Agriboard is just one of the many, immediately implementable solutions that can help our beautiful, sacred country develop economically while also ensuring that the rights of the people to a healthy life are upheld.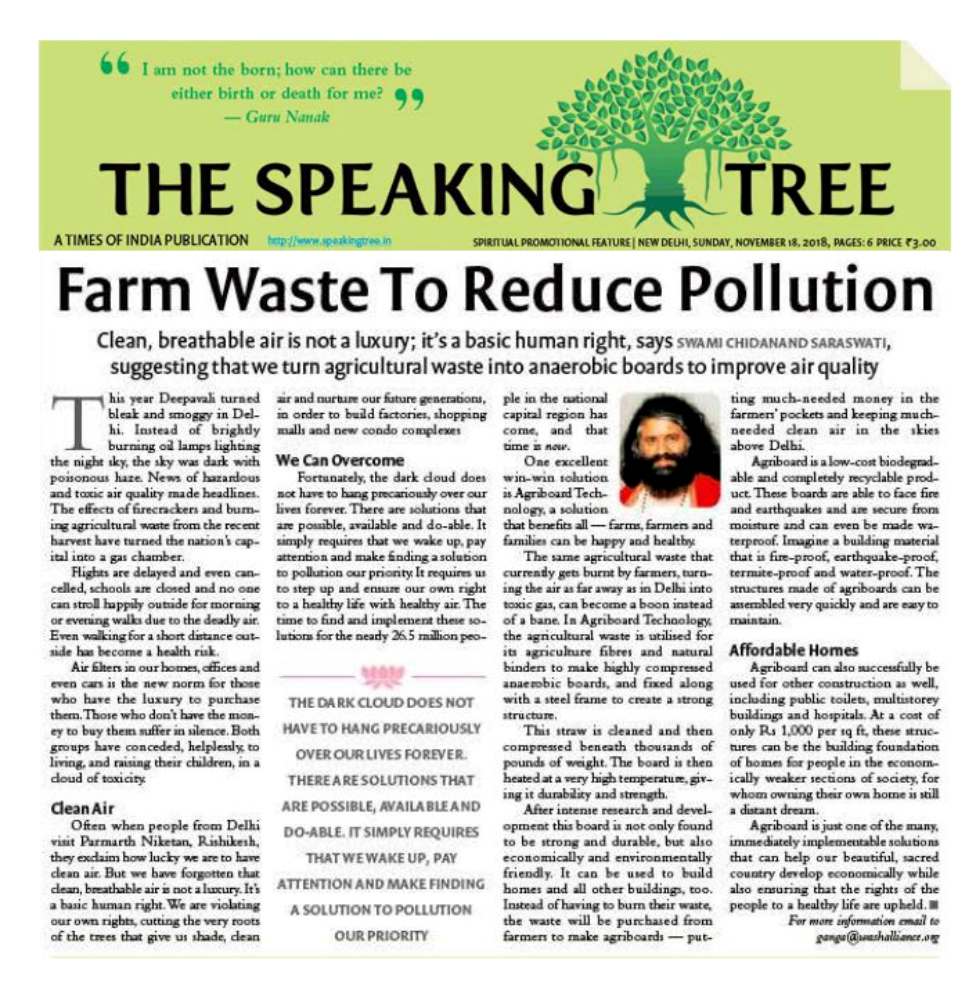 For more information email to ganga@washalliance.org