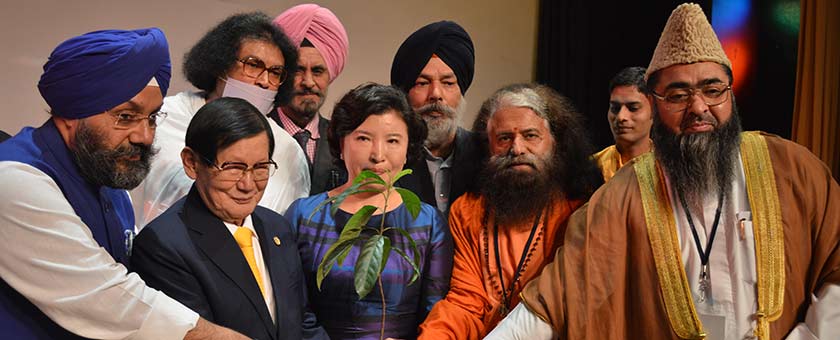 Faith Leaders Come Together for Peace at the World Alliance of Religions
Pujya Swamiji and Sadhvi Bhagawatiji recently served as inspiring lights at a conference in Delhi of the Seoul, South Korea-Based World Alliance of Religions. Attending the gathering were eminent leaders, including:
HH Pujya Swami Chidanand Saraswati
Mr. Man Hee Lee, Chairman of Heavenly Culture, World Peace and Restoration of Light, South Korea
Ms. Kim Lee, Chairwoman of International Women Peace Group, South Korea
Sardar Manjit Singh, President of Delhi Sikh Gurudwara Management Committee, India
Dr. Syed Zafar Mahmood, Zakat Foundation of Interfaith Coalition for Peace, India
Imam Umer Ilyasi, President of All India Imam Organization, India
Acharya Lokesh Muni, President and Founder Ahimsa Vishwa Bharti, India
Sadhvi Bhagawati Saraswati, President of Divine Shakti Foundation, India
and many others.
Pujya Swamiji said, "Today when I arrived, I was welcomed with chants of 'We want peace.' Everyone says 'I want peace' but are still in pieces. So what is the missing link? in the statement 'I want peace' herein lies the solution. If we bend the I, the ego, to become a bridge and not to be a barrier and remove our want, our desires, then all we have left is peace.  Let us not only discuss a resolution of peace today but pledge to work towards a revolution that not only worships the Creator but also collectively serves all of the Creation. Water, Sanitation and Hygiene, the environment and climate change are concerns that we must address as one family.  This journey of peace has led from Seoul, South Korea to our souls, our spirits, with great enthusiasm and speed but this speed needs a direction and that search of direction has come from India, which is not only a piece of land but a land of peace. Let us come together as a Religious Social Responsibility (RSR) to establish establish peace and to be in peace."
On the occasion Mr. Man Hee Lee said, "I believe that the intention of God is that we have peace amongst us and unity amongst religions. Let us work together for peace and the best place to start this work is in India but we need all of the eminent spiritual and religious leaders to come together and collectively work for peace."
Ms. Kim Lee said, "I feel so welcomed to India. I strongly believe that the culture of motherly love is so strong here and it is time that this compassion is fueled into action for sustainable peace."
Sardar Manjit Singh, President of Delhi Sikh Gurudwara Management Committee said, "In our religion, there is a saying, Sarvadha Bhala, which means for the welfare of all.  When we say for the welfare of all, we mean not just human beings but all living beings. Today we need to work together for the environment and for all of our natural resources because nature belongs to everyone."
Sadhvi Bhagawati Saraswati beautifully said, "Indian culture has told us since time immemorial, Vasudhaiv Kutumbakam, the world is one family. Our rishis, sages and saints have told us this forever. Now, we are finally understanding and catching up! That identification as of one world family carries within it great potential and possibilities: suddenly I am not bound, in any way, by the false boundaries of my country or my culture. All walls and ceilings are being shattered. It also comes though, with responsibility. Suddenly the world's hunger, thirst and pain are my own, and my responsibility is to satiate that hunger as if it were in my own belly, quench that thirst as if it were my own parched throat, to heal that misery and pain as if it were happening in my own home.  This is why it is vital and crucial that we must work as one family collectively to bring and sustain peace."
At the conclusion of the event, all pledged and committed to work together for sustainable peace.