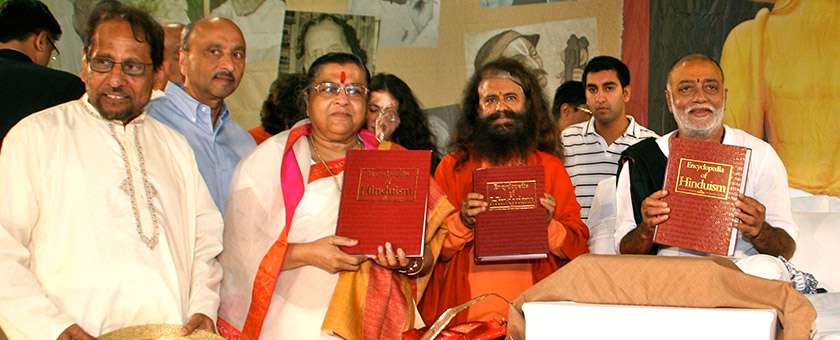 Encyclopedia of Hinduim Preview USA with Shri Morari Bapuji
Pujya Swamiji visited the Raritan Exposition Hallin Edison, New Jersey to grace Pujya Sant Shri Morari Bapuji's divine Ram Katha, which was organized and sponsored by Shri H.R. Shah, head of TV Asia, and his team.
Pujya Bapuji and Pujya Indira Betiji previewed and blessed Pujya Swamji Chidanandji's new Encyclopedia of Hinduism. The Encyclopedia is a project of the India Heritage Research Foundation, and is the culmination of over fifteen years' work by more than 1000 top international schol-rs. This divine compendium is a groundbreaking resource of knowledge, exploring every aspect of the wisdom and culture of Mother India.
Thousands of Indians gathered together in Edison, synchronistically in the very same hall where the first yagna for the Encyclopedia of Hinduism was performed in 1993! It was truly a divine blessing to see this groundbreaking work come to fruition.  It was wonderful to have so many saints, devotees and members of the IHRF team together for this great event.
[fbalbum url="https://www.facebook.com/media/set/?set=a.408420830666.189717.726135666&type=1&l=c51cbc29b0″]