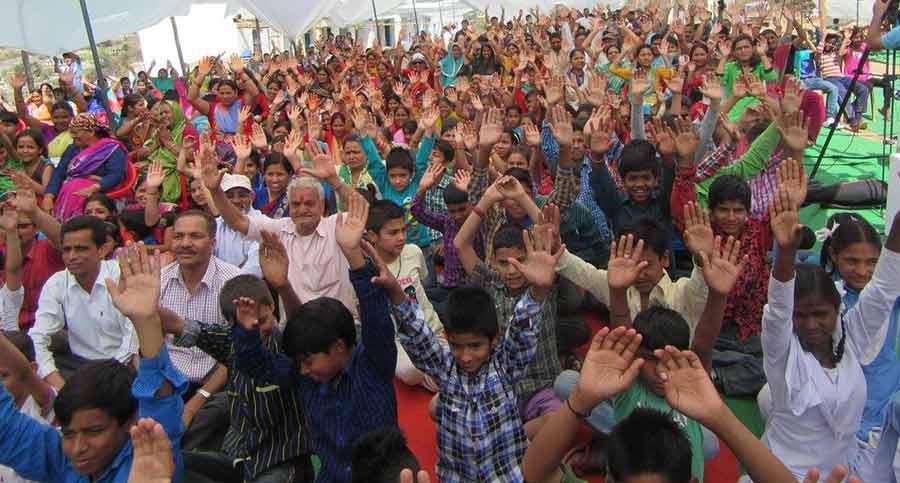 Devprayag pledges to work towards a Clean, Green and Serene India
Devprayag echoes with the collective resolution to build toilets in every household.
Renowned folk singer, Shri Narendra Singh Negiji sings for the preservation of Mother Ganga on the auspicious occasion of Baisakhi, the beautiful harvest festival of India, which was celebrated with great enthusiasm.
#Devprayag, the beautiful and sacred confluence where the River #Bhagirathi and River #Alakananda merge together to form #Ganga, reverberated with the collective resolution to preserve Mother Nature, as thousands gathered and pledged their part in a Swachhta Kranti (Clean Revolution), inspired and initiated by Parmarth Niketan's President and Global Interfaith WASH Alliance's Co-Founder Pujya Swami Chidanand Saraswatiji.
The sacred land echoed with the strong-willed intention of embracing cleanliness with sanitation and hygiene, by building toilets in every household and ensuring that men, women and children have a safe and secure place to heed nature's call. The social-awareness event started with school boys playing drums and welcoming Pujya Swamiji to the Shri Kirti Raghunath Sanskrit Mahavidyala.
Uttarakhand's renowned folk singer Shri Narendra Singh Negiji sang songs to inspire protection and preservation of Mother Ganga. International guests from the U.S., Japan, Chile, Australia, Lebanon, France, Brazil, Hawaii and many other countries sang and danced to the tunes of local folk music.
Another beautiful highlight of the event was a thoughtful social awareness skit performed by puppet artists from Rajasthan on how India's sacred rivers are being polluted due to open defecation and other forms of man-made pollution.
Pujya Swamiji's insistence on the need of bio-toilets and all the diverse and vibrant performances led to a collective concern as everyone raised their hands in unison and agreed upon working towards the purification of the River Ganga, hence creating a clean and green Devprayag for all.
This grand celebration was arranged by the people of Devprayag even amidst the challenging weather conditions of heavy wind and sand storm in a remote location far from the main road. Pujya Swamiji lauded their efforts and mentioned that this was indeed the true spirit of the Himalayas to stand up and celebrate life even admist all odds.
[fbalbum url="https://www.facebook.com/media/set/?set=a.10154071543662698.1073742119.86246862697&type=1&l=e29e35daae"]