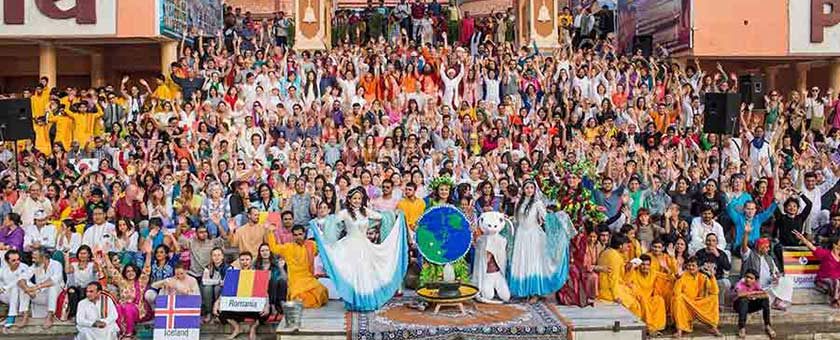 Day 7 of IYF 2016 – Conclusion
Concluding Day of the International Yoga Festival 2016
Today the annual, world famous International Yoga Festival, jointly organized by Uttarakhand Tourism Development Board, GMVN and Parmarth Niketan, at Parmarth Niketan, Rishikesh concluded. Since 1999, Parmarth Niketan has been hosting this world renowned event which has grown to international acclaim and which grows in size year after year. Yogacharyas, teachers, students and seekers come from every corner of the globe to participate in this program. This year there were approximately 1000 participants from more than 70 countries. There were classes from 4:00 am until 9:30 pm with more than 70 revered saints, yogacharyas, presenters and experts from nearly 20 countries around the world.
Ashtanga Yoga, Raja Yoga, Bhakti Yoga, Kundalini Yoga, Iyengar Yoga, Vinyasa Yoga, Bharat Yoga, Deep Yoga, Shintoh Yoga and Somatics Yoga are just a few of the more than 150 different offerings throughout the week. There were also classes in meditation, mudras, Sanskrit chanting, reiki, Indian philosophy and much more. Further, spiritual discourses were held by revered spiritual leaders from India and abroad. There were also cultural dance/music performances, which highlighted the culture of this Himalayan Garhwal region as well as music from musicians from Israel, Australia and the U.S.
The official concluding session took place at 4:00 pm and was graced by the presence of His Excellency the Governor of Uttarakhand, Shri Krishna Kant Palji, many revered Interfaith spiritual leaders, saints and all the yogacharyas and presenters.
Clean, Green & Serene Pledge took place with participants of more than 70 nations as a part of the Swachhata Revolution, followed by the lighting of the lamp.
Sadhvi Bhagawati Saraswati gave a welcome and introduction speech and the Participants and the Yogacharyas shared their experiences from the week-long IYF.
HE the Hon'ble Governor of Uttarakhand, Shri Krishna Kant Palji said, "As I entered today for the concluding ceremony of the International Yoga Festival, I could feel the positive vibrations permeating every being and everything. Truly Rishikesh is the place were Yogis began their journey to the depths of Yoga. From them it went on to touch everyone all across the world." He urged all participants to similarly take the touch of Yoga and transform their world through its message and through its application in their everyday lives.
HH Pujya Swami Chidanand Saraswatiji concluded the programme with His blessings and words of inspiration to all of the participants and Yogis. He said "Yoga is more than the union of our head to our knees, it is the union of ourselves with the Divine. In that union what comes forth is the spirit of divine service and of the intention to give back. I am so proud of all my Yogis from 85 countries who have come together today, even after the festival has concluded, to take the practice further not just on the mat but off the mat and into our every day lives."
H.E Hon'ble Governor presented the Rudraksha Mala to all the Yogacharyas and everyone joined in a beautiful Global Peace and Unity Song presented by Musicians from Israel, Australia, U.S. and other countries with world famous drummer Sivamani, who gave a magnetic, energetic and ecstatic drumming concert with his beautiful wife Runa singing. Everyone danced and sang along with joy and love.
Address by His Excellency the Governor of Uttarakhand, Shri Krishna Kant Palji and vote of thanks by Hon'ble Secretary, Tourism and Culture, Uttarakandh Shri Shailesh Bagauliji. (Nandini please fill in)
The program was followed by a sacred Ganga aarti ceremony in which everyone participated with great love and devotion.
The concluding program ended with a special sacred and divine puja and celebration of the auspicious day of Mahashivratri.
[fbalbum url="https://www.facebook.com/media/set/?set=a.692345874241702.1073741878.348769688599324&type=1&l=f9df1bc767″]