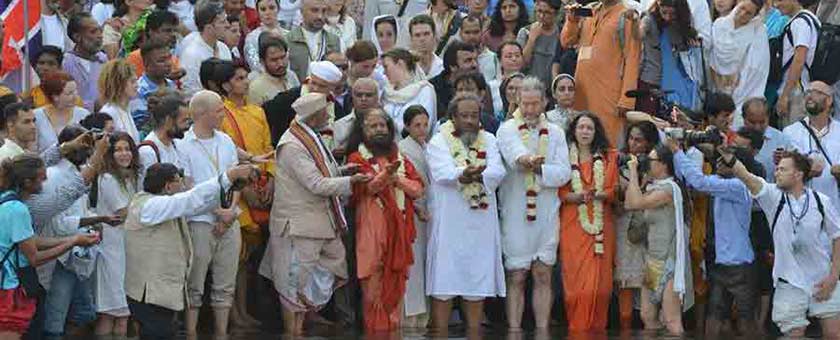 Day 3 – Yog Maha Kumbha
On the concluding day of Yog Maha Kumbha there was beautiful satsang with Pujya Mooji, in the divine presence of Pujya Swami Chidanand Saraswatiji (Pujya Swamiji), with whose vision much of the Yog Maha Kumbha had been planned and organized, and Pujya Sadhvi Bhagawatiji as well as many other eminent dignitaries that included more than 1000 yogis from many nations.
Over the course of the three day festival more than 2000 participants joined from more than 85 nations.
Yog Maha Kumbha concluded with a special musical performance with internationally enowned musicians from Israel, Iran, Yemen, Australia and many other countries, led by Bharat Mitra, Founder- President of Organic India, Prince EA, American rapper, spoken word artist, music video director and rights activist, and eminent Israeli artist Gill Ron Shama and his interfaith band. They shared a special song for world peace, alled One Source Waking Up, in the spirit of Vasudhaiv Kutumbakam, bringing together the world's faiths with the sacred chanting of Om Shalom Salam Amen, signifying a yogic union of countries, cultures, colors and creeds.
The ceremony was joined by Mela Adhikari Shri SA Murugesan and his team who were handed over changing rooms designed and created by the Global Interfaith ASH Alliance, of which Pujya Swamiji is the Co- Founder, not only to provide safe enclosed spaces for women to change after taking a holy dip but to also raise awareness by providing messaging all around the four walls for people to remember the need for keeping our rivers and our communities clean and free from Open Defecation. Many of these changing rooms have been handed over to the Mela Administration to install at key locations.
More than 1000 devotees, led by Pujya Swamiji, rallied together along the banks of Mother Ganga from Pantdweep to Har Ki Pauri singing the Oneness song and taking a historic pledge at Hari Ki Pauri for reserving and protecting the sacred River Ganga and all of Mother Nature, so that festivals like these can continue to attract and inspire people from all across the world and all over India in a message of peace and oneness.
[fbalbum url="https://www.facebook.com/media/set/?set=a.701039063372383.1073741881.348769688599324&type=1&l=afb2d5986f"]