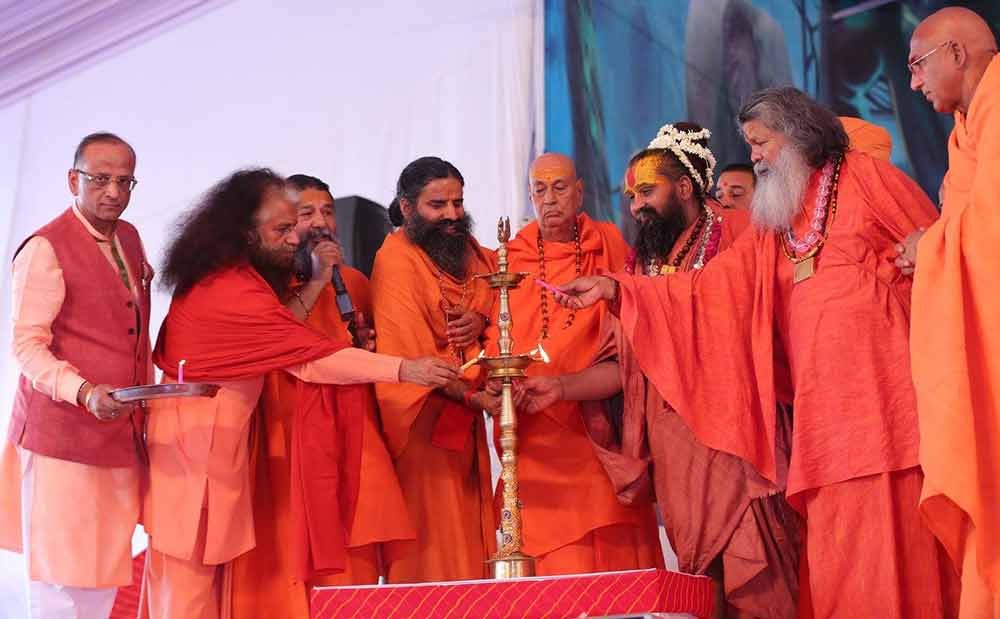 Confluence of Saints Concludes the Simhasth
On the last day, just before the last major Shahi Snan of the Kumbha Mela, Pujya Swami Chidanand Saraswati and Pujya Swami Avdheshanand Giri Ji Maharaj led a beautiful Sant Sammelan, a gathering of the most eminent and revered saints at the Simhasth Kumbh Mahaparv – 2016, to give their darshan and share their wisdom as the final Kumbha prasad.
The programme was just following Pujya Shri Swami Rajendradas Ji Maharaj's katha at the Prabhu Premi Sangh camp and some of the saints who graced the occasion included: Pujya Swami Satyamitranand Giriji, Pujya Baba Ramdevji, Pujya Sadhvi Sadhvi Rithambara – "Didi Maa", Pujya Mahant Narendra Giriji, Pu.Madhavpriya Swamiji, Pujya MM Swami Harichetnanandji, Pujya Shri Ravatpura Sarkar of MP, Pujya Swami Anand Giriji and many others. The Hon'ble Chief Minister and many others joined the special occasion. Both Pujya Swamiji and Hon'ble Shri Shivraj Singh Chouhanji led massive pledges to commit to a pollution free, open defecation free and green River Kshipra.
[fbalbum url="https://www.facebook.com/media/set/?set=a.10154204434817698.1073742156.86246862697&type=1&l=4393f89bc4″]