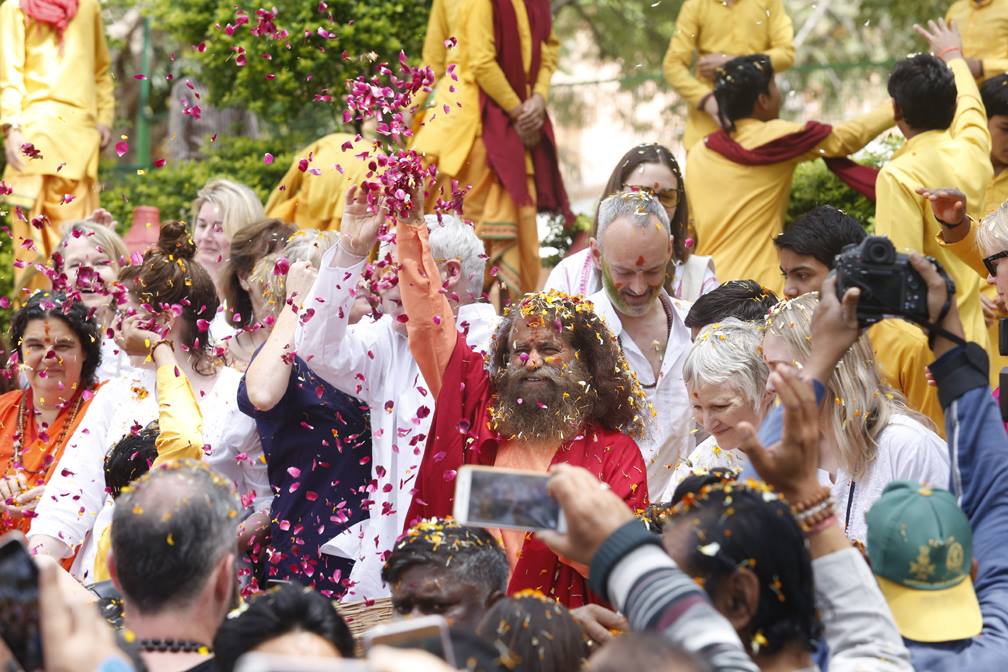 Clean & Green Holi Celebrations at Parmarth Niketan
Clean & Green Holi Celebrations at Parmarth Niketan with HH Pujya Swami Chidanand Saraswatiji and people from 35 countries
Pujya Swamiji shares that by Kumbh 2021 Woodless Havan with Cowdung Biscuits would be propagated widely across the region and inspiration to make all our festivals and celebrations clean and green by reducing our carbon and water footprint. He adds, on World Happiness Day, only by protecting our Nature and Culture can we truly be happy and thereby protect our Future.
#Holi at its best! Clean, Green & Serene #celebrations! Pure joy, happiness & love! As people shout #HoliHai & celebrate the #festivalofcolours w/ @PujyaSwamiji, in great exuberance, joining Him for a sacred & exquisite #Ganga Snan! #HappyHoli #IncredibleIndia #WorldHappinessDay pic.twitter.com/WFm7GJ8yPB

— Parmarth Niketan (@ParmarthNiketan) March 21, 2019
RISHIKESH: People from 35 countries joined HH Pujya Swami Chidanand Saraswatiji, President of Parmarth Niketan, alongwith the Parmarth Rishikumars, devotees and sevaks in special eco-friendly Holika Dahan & Holi celebrations at Parmarth Niketan (Rishikesh) today, as a special pre-Holi celebrations. As divine music and chanting filled the air, people danced and coloured each other with eco-friendly, organic colours of turmeric, sandalwood, natural flower dyes and were showered and blessed by Pujya Swamiji with beautiful flower petals.
An #EcoFriendly #Holi Celebration at Parmarth Niketan, Blessed by HH @PujyaSwamiji and enjoyed by everyone from the Rishikumars to our Sevaks and our lovely family that come from different parts of the #world to join us in their Himalayan home 🌍 ♻️🌈 #greenholi #Ecofriendlyholi pic.twitter.com/jCNL4U3OO9

— Parmarth Niketan (@ParmarthNiketan) March 20, 2019
On the occasion, Pujya Swami Chidanand Saraswatiji, President of Parmarth Niketan shared, "This Holi we are beginning a new tradition of Green Holi and Green Havan. Let our traditions and practices be clean and green. Let's us make a new beginning by using gobar patties instead of wood for a woodless Holika Dahan. In fact, at Parmarth Niketan we pledge to make all our daily havans and yagnas woodless from the auspicious occasion of Holika Dahan. In this way we utilize the cow dung which too often lays wasted on our streets, celebrating the great gifts our sacred cows provide us, save trees and protect our environment! Let us also pledge to celebrate Holi with eco-friendly colours that are not toxic chemicals that harm our skin and contaminate our soil and waterways. Let us celebrate an eco-friendly, clean and green Holi, woodless Holi and less water Holi, in which we colour our hearts and ourselves with purity and simplicity such that everything in life becomes a celebration."
All of the guests were deeply touched by Pujya Swamiji inspiring message and were eager to learn about the deeper meaning of Holi and the message one gains from the story of evil Holika and divine Prahlaad. Immediately after the green Holi celebrations there was a divine and refreshing Ganga Snan, as the waters of Ganga washed away the organic colours and petals we were once again reminded of the deep connection within ourselves to the Divine which colours a part of us that never washes away.
In the evening after a divine Ganga Aarti ceremony which especially commemorated Holi falling this year at the same time as the International Happiness Day (20th March), International Forest Day (21st March) and World Water Day (22nd March). A special pledge was taken to keep our forests and sacred rivers clean, to make all our festivals and holidays into clean and green ones. Pujya Swamiji emphasized that only by protecting our Nature and Culture can we truly be happy and thereby protect our collective Future. He shared that pollution and degradation of our natural resources can never amount to a happy and healthy present or future and hence we all must be the Guardians of the Earth.
There was a special Gobar Holika Dahan ceremony with cowdung biscuits in the evening with a special full moon meditation, divine Vedic chanting and music from yoga practitioners and students from across the world. Everyone was invited to offer their desires, expectations, grudges and negativity to the Holika fire and shine forth with faith and devotion like the full moon and like divine Prahlad.
"To be here on the banks of Ma Ganga for Holi is such a blessing for our students. For many, this is their first time in India, so to witness the joy and beauty of the festival of colour is very auspicious. Pujya Swamiji's commitment to protecting Ganga is incredibly inspiring. Celebrating Green Holi is very important. Holi is about releasing past mistakes — let go of the damage we have done to the earth and to each other. Holi is about new beginnings — celebrate a new, healthy, sustainable way of living. Holi is about love and friendship — affirm, renew and grow in love for the planet and each other." Michael Miller, Co-founder of London Meditation Centre and New York Meditation Center London
"Holi is one of India's most world-renowned festivals, but we should be known for vibrant color of our lives, not for the toxic chemicals that are dangerous to our bodies and to mother earth and her waterways. On my first Holi, someone smeared a handful of unnaturally bright purple color on my face while I was laughing, and it went into my mouth. Even though I cleaned it out immediately, I couldn't get out of bed for 2 days after that because of nausea. I hope everyone can use natural colors so they don't suffer the same from what could be a very joyous festival!" Anandra George, Naad Yoga Teacher, Hawaii, USA
"Holi like so many Hindu festivals is really all about being in the present moment and in this moment is the only time in which we have to truly experience joy. I am so thankful to be here at Parmarth Niketan in the divine presence of my Guru, Pujya Swamiji, to me it feels like the colours inside of my heart is what is being reflected outside!"Tara Maniar, Life Couch, Canada
"As I'm throwing the colors and flowers, I symbolically release the past but at the same time, I bring the color with me as a reminder of all the beauty that surrounds us and is within today and every day!" Laurie Larson, Sevak at Parmarth, Korea & USA
"This is my first Holi in India and I am so excited to be celebrating here in India! It's so beautiful to me that whether its the festival of colours or the festival of lights – India reminds us how to be happy about the simple and most important things in life and how to celebrate every moment with our loved ones." Dalia Adel, Sevak at Parmarth, Egypt