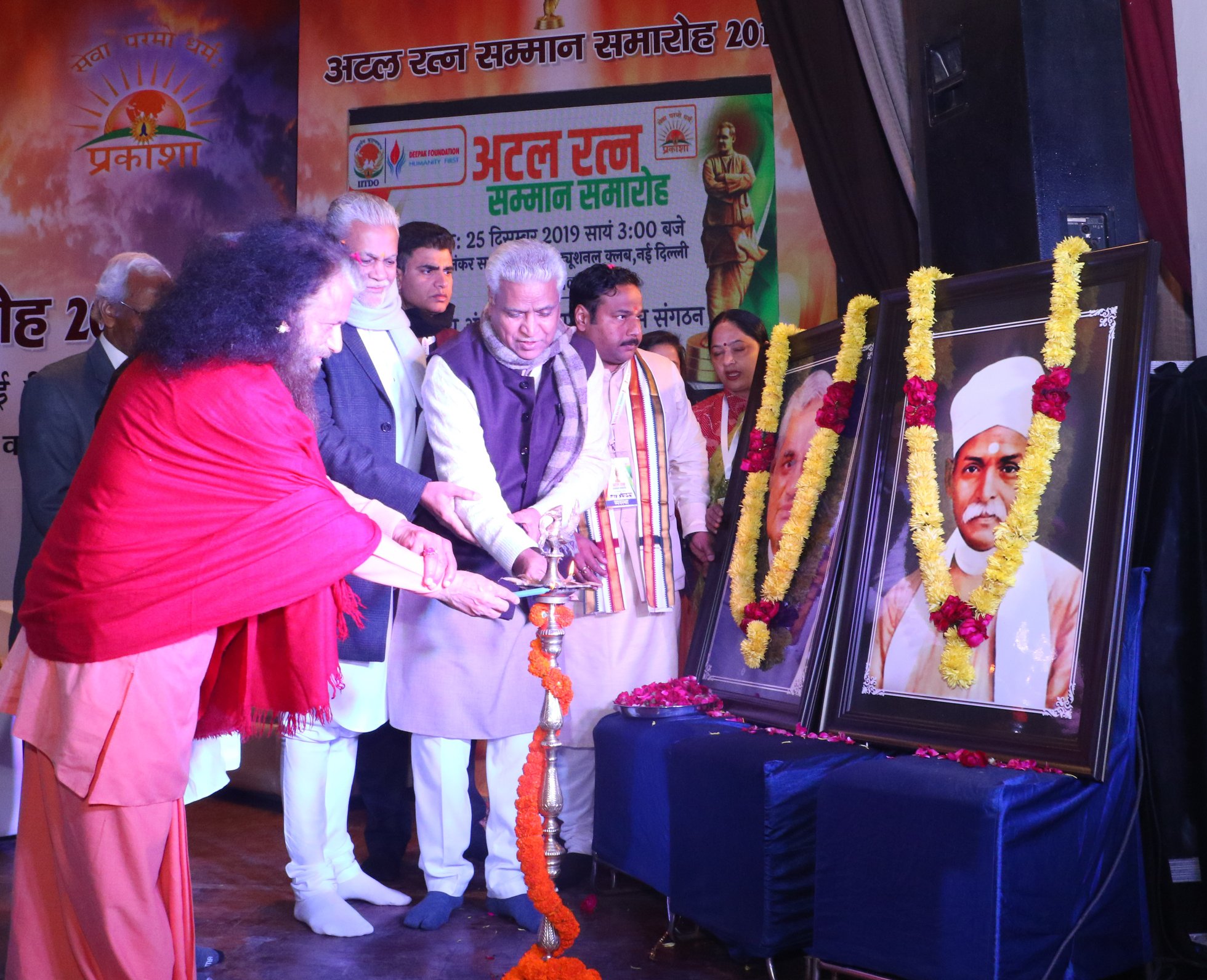 Atal Ratna Samman Samaroh
To show His respect for two legendary souls that dedicated their lives to the service of the nation and the welfare of all, Pujya Swami Chidanand Saraswatiji draped traditional flower garlands on images of Mahamana Madanmohan Malaviya and Mananiya Atul Bihari Vajpayeeji during the annual Atal Ratna Samman Samaroh in Delhi on December 25th. Named in memory of the former Prime Minister of India, Atal Bihar, Atal Ratna Samman Samaroh is an annual award ceremony in which recipients are awarded for excellence in their respective fields and for their contribution to society. The Chief Editor of Zee News, Shri Sudhir Chaudhary ji; champion wrestler, Yogeshwar Dutt ji; Sanjay Jha; and, IAS officers from Madhya Pradesh cadre and others were honored with Atal Ratna Award for their services to the nation.
To inaugurate the program, the Hon'ble Minister of Human Resource Development, Government of India, Shri Ramesh Pokhriyal Nishankji;
All India Associate Head of Relations and former National Organization General Secretary, BJP, Shri Ramlalji; Minister of State for Women and Child Development, Government of India (GoI), Ms. Devashree Chaudhary; Minister of State for Health and Family Welfare, Shri Ashwini Chaubeji; MP and National Vice President, BJP, Shri Prabhat Jha ji; Central Agriculture and Farmers Minister of State for Welfare, Government of India Shri Purushottam Rupala ji; MP and State President BJP Delhi, Shri Manoj Tiwari ji and other distinguished guests lit the customary lamp as a symbol of auspiciousness, prosperity and abundance.
In remarks to the assembly, Pujya Swamiji shared that "Atal ji's life was beyond religion, caste and any one community- it was universal. He had the ability to easily touch the heart of whomever he met. Atal ji's words, whether in the Lok Sabha or in public meetings, were scholarly, yet humble. His life and his message are immortal, and allow his legacy to live on even today."
As for Malaviyaji, Pujya Swamiji said that due to the greatness of his heart, Malaviya ji, known as Mahamana throughout India, established the Kashi Hindu Vishwavidyalaya and contributed greatly to education. He added that "the progress of any nation is possible only when the residents of that nation are well-educated, and a person can become aware of their rights only when they are educated. Education is the backbone of every society and nation. Our present and future depends on our education system. Mahamana said that a well-rounded life is the key to education, and we need to adopt his education system. Such a system would offer students the chance to develop their physical, mental and emotional powers."
In closing, Pujya Swamiji reminded everyone that the two legendary men's birthdays coincided with Tulsi Jayanti, which celebrates another great contributor to society and the nation, the Tulsi tree. He shared that Tulsi has been called Mahaushadhi in the Vedas and has the power to mitigate many diseases."महाप्रसाद जननी, सर्व सौभाग्यवर्धिनी आधि व्याधि हरा नित्यं, तुलसी त्वं नमोस्तुते।। The Tulsi plant provides 24 hours of oxygen. It is also a better anti-oxidant, and is anti-aging, anti-bacterial, anti-septic and anti-viral."
The ceremony was attended by noted industrialists, eminent scientists, doctors, artists, IAS, IPS, academics, jurists and prominent social workers, and was coordinated by International Secretary General, Mr. Sharad Mr. Vaastav ji, and Vice-President, Mr. Deepak Jha ji, ot the Indian International Trade Development Organization (IITDO). Mr. Deepak Jha ji, is also the Chairman of The Deepak Foundation. Both organizations joined the Prakasha Foundation in presenting the event.