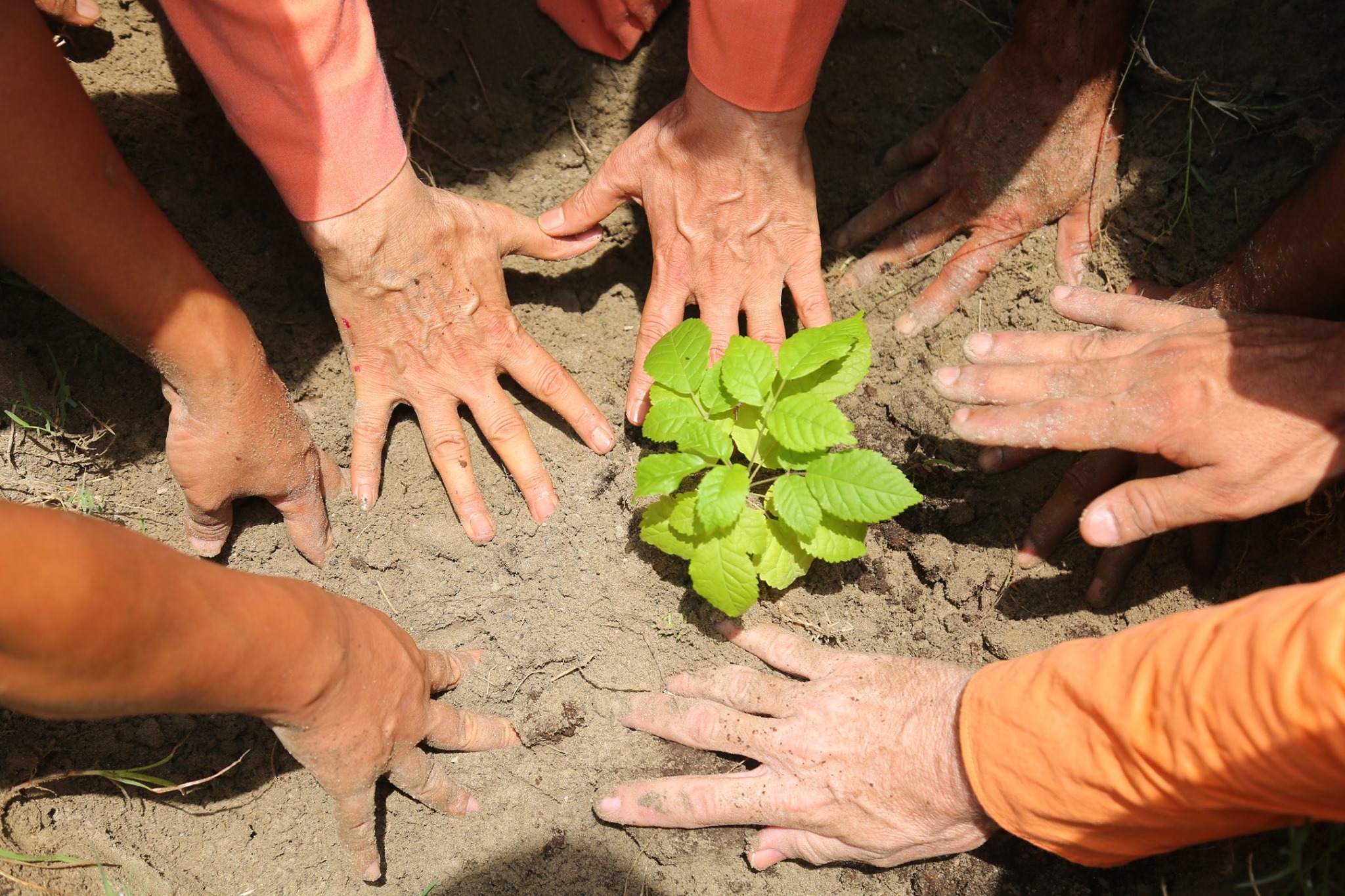 Planting Trees for HH the Dalai Lama
We celebrated HH the Dalai Lama's birthday by planting trees and planning for millions more. HH Pujya Swamiji was joined by HH Chetsang Rinpocheji's disciple and green activist Acharya Kinleyji, Major General HS Ranaji of the Eco-Task force along with devotees from around the world and individuals serving at Parmarth's nursery, joint initiative with the Eco-Task force.
Green prayers of long & healthy life, as trees are planted in honour of HH @DalaiLama 's birthday & millions more are planned in Parmarth Nursery, jointly w/ the EcoTask Force. Glad to have HH Chetsang Rinpocheji's continual support, more: https://t.co/bYlrKdCrrr #climateaction pic.twitter.com/mFyURjTfWw

— Parmarth Niketan (@ParmarthNiketan) July 6, 2019
Special trees of Tabebuia Rosea and Gingko Biloba were planted at the nursery to commemorate the green leader, whose example is like the shade of a tree. Under him millions are touched, inspired and healed by the ever expanding shade of his compassion, love and peace. The location of the nursery is the village of Kunau, Rishikesh, just along the River Ganga, where a collection of seeds has quickly sprouted to well over 60,000 saplings, ready for planting in schools, parks, public spaces and institutions throughout Uttarakhand.
Wishing HH the @DalaiLama, an ocean of compassion, love & peace, a spiritual leader whose clean, green & serene leadership is a beacon of hope 4 the world-inspiring countless lives, a Happy Birthday w/ many more to come! Let us pray 4 his long life &good health by planting trees! pic.twitter.com/XErH6PtKyh

— Pujya Swamiji (@PujyaSwamiji) July 6, 2019
The nursery number – 60,000 – represents just a fraction of the 1 million trees that Parmarth's President and Spiritual Leader has committed to planting – a million trees that the residents of Kunau are helping to grow. The ongoing project has breathed new life into both the small village, providing much-needed employment to the locale's struggling residents, and to the environment as well. Belpatra, Orange, Lime, Reetha, Walnut, Moringa (drumstick), Hrdha, Silver Oak, Pomegranate, Sandalwood and many other species of fruit, medicinal and oxygen rich plants are being nurtured at the farm, with plans to devote even more space at the large site to the cultivation of trees – all of which will provide an enormous supply of life-giving oxygen to both Uttarakhand and the planet.
In speaking to his task force and the activists after the plantings, Pujya Swamiji stated, "Oxygen is essential in life. We can survive three or four days without water, a few weeks without food, but, we cannot survive even one minute without oxygen. And trees…provide us with free and abundant oxygen. As Mahatma Gandhiji said there is enough for every man's need but not enough for even one man's greed. But today our greed for more and more, bigger and bigger is cutting the roots of the tree of our collective existence. On top of losing the oxygen that the trees provide due to our unsustainable development, we've added air pollution, water pollution, soil pollution on-top of it. This has brought disease and illness to the population, with 70 million deaths worldwide each year caused by air pollution alone. By 2030 we will half the water we need in India, already the water crisis is evident. These numbers are alarming and one of deep concern for everyone."
"But," He continued, "we can change the direction. We can wake-up! We can plant trees. And, with each tree that we plant, we can offer the world a little more oxygen to combat the pollution. A gift, in honor of our beloved and respected HH the Dalai Lama. But really an inspiration for all of us to make all our celebrations clean, green and serene by making tree plantation an integral part."
Pujya Swamiji also dedicated the world-famous Ganga Aarti last night to His Holiness praying for his long life and good health.