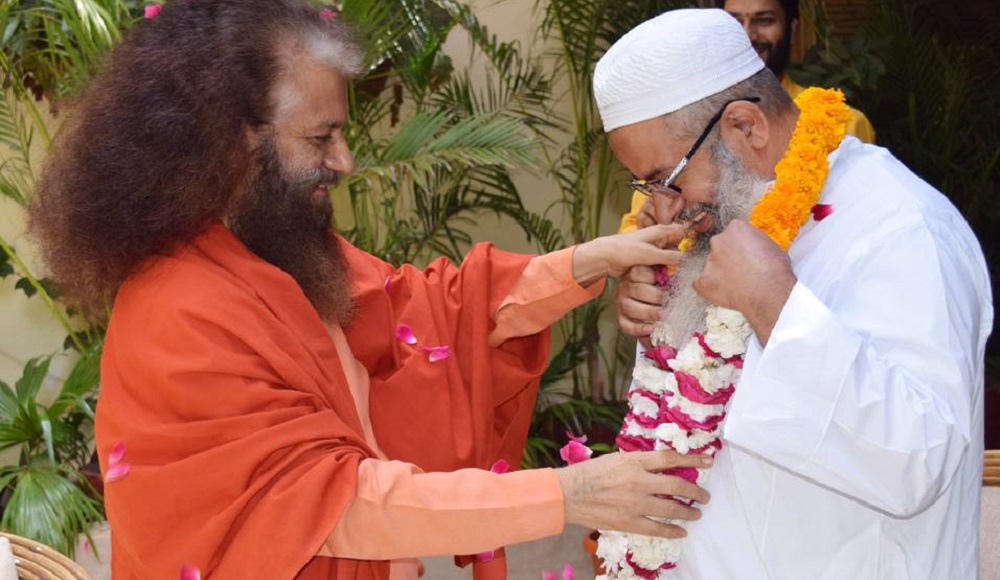 Meeting with Maulana Mahmood Madaniji, Sec-Gen, Jamiat Ulama-i-Hind
It was so wonderful to welcome Maulana Mahmood Madani​ji, Secretary-General, Jamiat Ulama I Hind​ here at Parmarth Niketan (Rishikesh) recently. During his visit, he had a beautiful and love-filled meeting with Pujya Swami Chidanand Saraswatiji – Muniji​ in which they discussed a large plantation drive in more than 1,000 madrasas across India.
They planned to initiate plantation campaign in Rishikesh, Haridwar and take it to Deoband, Delhi and Ajmer Sharif. They reflected upon the historic events in Bihar to spread interfaith harmony as well as the recent Earth Day celebrations in Ladakh for which Pujya Swamiji was unable to be there physically but whose good wishes and love were there for the noble Go Green, Go Organic drive initiated by His Holiness Drikung Kyabgon Chetsang Rinpoche.
They also discussed plantation along the River Rispina, as well along other rivers, and educating students towards environmental protection whilst simultaneously spreading the message of interfaith harmony and brotherhood. Madani Saheb presented Pujya Swamiji with an exquisite hand made shawl that was dyed with organic vegetable colours. Pujya Swamiji was joined by the Parmarth Rishikumars in presenting Madani Saheb with a sacred Rudraksha sapling symbolizing his commitment and leadership towards this clean and green mission.