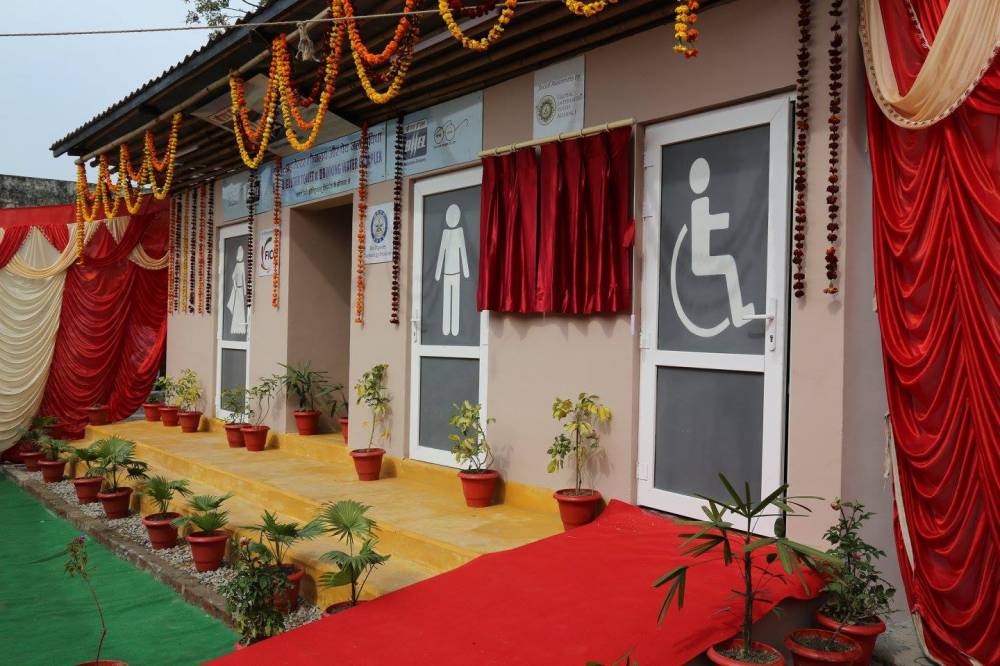 Inauguration of the Char Dham Bus Stand Bio-Toilet, Rishikesh
Sanitation and Meditation come together in Rishikesh at the Public Bio-Toilet Inauguration at the Char Dham Bus Stand
HH Pujya Swami Chidanand Saraswatiji, Co-Founder of The Global Interfaith WASH Alliance, Founder Ganga Action Parivar and President of Parmarth Niketan, graced and blessed the official inauguration ceremony of the new eco-friendly, public bio-digester toilets built at Char Dham Bus Stand, Rishikesh. He was joined by Executive Director of BHEL HEEP Haridwar Shri Prakash Chandji, Shri SK Agarwal, General Manager BHEL, along with members of Federation of Indian Chambers of Commerce & Industry (FICCI), led by Additional Director FICCI Rubaab Sood, GIWA's Women for WASH members and many others.
This public toilet complex is one of 25 complexes that are to be inaugurated under a beautiful partnership programme between BHEL, FICCI, GIWA and GAP. Through CSR sponsorship BHEL will providing funds for the construction and the first two years of O&M of 25 public locations along the Char Dham route and within the state of Uttarakhand, in promotion of the Swachh Bharat Mission, India and the National Mission for Clean Ganga. GIWA and GAP helped facilitate the process through obtaining NOC's and will continue to raise much needed awareness through advocacy and training to inspire and catalyze behaviour change, hence better utilization of the infrastructure.
Shri Prakash Chandji shared BHEL's commitment to the Swachh Bharat and Namami Gange Mission. He also shared that 13 of the 25 toilet structures had been completed or were under construction while another 12 were remaining. He shared that with renewed zeal and Pujya Swamiji's divine vision and blessing they would be completed soon, especially the other two locations in Rishikesh.
Pujya Swamiji spoke about meditation and sanitation coming together in Rishikesh and how building toilets is necessary for maintaining Gangaji's cleanliness, as well as protecting the health and safety of people, especially women, and that by building eco-friendly toilets within the Ganga Basin will not only help keep the environment clean, but will help our culture shine everywhere. Pujya Swamiji especially mentioned Senior Director FICCI Shri Nirankar Saxenaji and his pivtoal role in driving these projects to completion, appreciating his great dedication and commitment to this cause. He also shared His gratitude for Nagar Palika, Shri Deep Sharmaji, who in spite of his physical absence for the inauguration due to prior commitments, helped provide every possible support from the administration to ensure the construction was done smoothly and the toilets would function with ease.
The bio-digester technology has been developed by DRDO, using harmless anaerobic bacteria process which naturally dissolves all waste. The only outputs are clear, odorless, virtually pathogen free water which can be used for irrigation. Clean biogas is also produced, which can then be harnessed to provide power for households, entire villages and even automobiles!
[fbalbum url="https://www.facebook.com/media/set/?set=a.10155019881652698.1073742250.86246862697&type=1&l=3c2f0ab7bb"]